Our students
Palanikumar Gopal
Palanikumar came from India to study here.
MA Computer Animation and Visual Effects
'I am really enjoying the facilities a lot. They have up to date software and labs that are open 24 hours which makes me really comfortable as I can go anytime that I need.'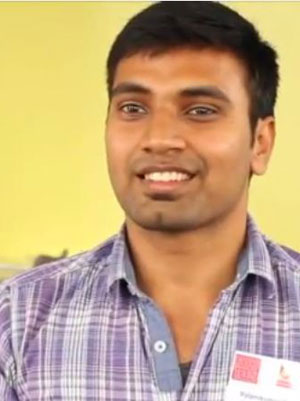 What do like in particular about your course?
I really like the tutors because they really help me. If I am stuck with my work they help me find the solution. The work that I have done up to now has been great and because of this I am really proud to say that I was nominated for the 2014 MPC Internship.
What has been your favourite experience so far studying at Teesside?
To be honest when I first came to Teesside it wasn't easy to go out or go around the city but after making friends with some people I really enjoyed going out. My friends also helped me with my work, they gave me good feedback and suggestions. If I got given a chance to do it again I would.
Have you had chance to explore the region around Teesside?
I have visited Redcar with my friend who came to meet me from another university and I am planning on going to visit the hot air balloon festival in May. I will be free from my studies after May so I will start to explore then.