Our students
Mengna Zhu
Mengna came from Shanxi Province in China to study MsC Software Engineering. She now works in local technology company, amBX.
MsC Software Engineering
'The relationships I have formed with fellow students have helped me so much with settling in to life in the UK, with my studies and with preparing to find a job.'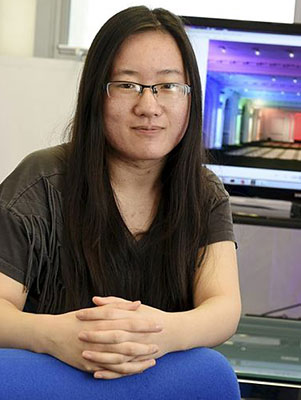 I came to Teesside University from Shanxi Province in China. My original aim was to study a Games Artificial Intelligence course, but when I arrived the course was not running. The Assistant Dean, Alison Brown, worked closely with me to help me select another course, and this is how I began my MSc in Software Engineering.

At first the course was quite challenging for me – it was hard to adjust to studying in English and it took a while to get used to the different regional accents. It was helpful that one of the Computer Science lecturers in my second term, Julien Cordry, speaks Chinese, so he was able to help me with translation from time to time. I began to improve my English skills significantly when I did my first project, in Agile Project Management. I found that working closely in a small team of British people was a very intensive experience which helped me with increasing my technical vocabulary and practising my communication skills in English.

One service at the University which was a great help to me throughout my study was the English Language Support available through the Teesside University Library Learning Hub. They provide assistance with academic writing and presentations, and I found the grammar check service extremely useful before submitting my essays.

On a personal level, when I arrived, I made friends with other international students through my pre-sessional English class. The relationships I have formed with fellow students have helped me so much with settling in to life in the UK, with my studies and with preparing to find a job.

I used the University's career services and help from my friends to prepare my CV. After proactively emailing lots of companies, I found a job as a Software Engineer with amBX in Middlesbrough. The company has created revolutionary lighting control software which delivers emotive lighting experiences to real world enviornments. The selection process was quite tough and included a half-day interview in Middlesbrough and a final interview in London. But this has given me confidence in the company and I am proud that I was selected to work with them. So far I am really enjoying the job.

Despite some challenges at the beginning of my studies, my skills and confidence improved drastically during my course. In the end I have achieved fantastic results with my degree and in my personal and professional life, so everything has been worthwhile.

If I had to give some advice to other international students coming here to study, this is what I would recommend:

• Before you leave home, make sure you pack anything you really can't live without. It's not always easy to find products from home.

• Make sure you get involved in lots of social events. I went to gaming events for new developers organised at the University and this helped me to meet new people and make friends.

• When you arrive, try to locate supermarkets and restaurants with food from home. There are many international supermarkets and restaurants in Middlesbrough. I have some favourite places here where I have been able to find good Chinese food and this has helped me not to feel homesick.

• Be prepared for changeable weather – bring warm/waterproof clothes!