Megan helping to highlight benefits of apprenticeships
Chemistry student Megan Jones who is combining part-time study with work at a leading chemical research firm has been helping to highlight the benefits of apprenticeships.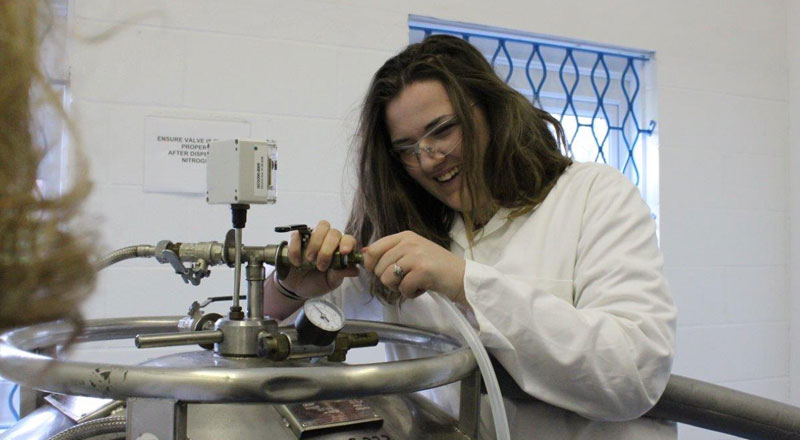 Megan, 18, from Chester-le-Street, is studying BSc (Hons) Chemistry part-time while working for High Force Research Ltd, which specialises in new product development in the pharmaceutical, biotechnology and fine chemicals industries.
She joined the company in November on a five-year apprenticeship. The apprenticeship funding from the Royal Society of Chemistry also goes towards Megan's first three years of university fees, with High Force paying the final two years of her five-year chemistry degree course.
As well as completing her five-year apprenticeship, which will enable her to learn key practical skills working alongside experienced chemists, Megan is studying part-time for a chemistry degree at Teesside University.
The importance of apprenticeships and alternative career routes into science were highlighted as part of National Apprenticeships Week, from March 14 to 18.
To mark National Apprenticeships Week, High Force Research Ltd invited Clare Viney, Royal Society of Chemistry director, to spend the day as an apprentice.
Clare returned to the laboratory for the first time in 15 years to take part in tasks alongside Megan, including filling an Nuclear Magnetic Resonance vessel (NMR) with liquid nitrogen
The chemical research company received funding from the Royal Society of Chemistry through its EnterprisePlus Scheme to appoint Megan as its first apprentice chemist last year.
Megan said: 'This is a great opportunity to progress my career in chemistry as I will be learning practical skills in a laboratory and working alongside experienced chemists. I am getting valuable hands-on experience and will also have a degree at the end of five years.'
Clare said: 'Apprenticeships help so many people to grow, from the apprentices themselves to their employers and ultimately our economy. At the Royal Society of Chemistry, we're really pleased to be able to support such a thriving community of chemical sciences companies.'
High Force Research Director, Stuart Penny, said: 'Appointing an apprentice is another way of finding and developing home grown talent. We have strong relationships with the universities and usually appoint graduates but the benefit of working with apprentices is that we are able to teach practical laboratory skills from day one.
'Megan will has been working in our laboratories with highly experienced chemists four of five days a week and this combined with her academic studies will make her a very skilled employee in the years to come.'
National Apprenticeship Week celebrates apprenticeships and the positive impact they have on individuals, businesses and the wider economy. This year's theme focuses on higher skills to show how young people, entrepreneurs and businesses can work together through traineeships and apprenticeships.
Royal Society of Chemistry video about apprenticeships, featuring Megan
---