Library refurbishment leads to prestigious award nomination
Teesside University's Library is among building projects shortlisted for a prestigious regional property award.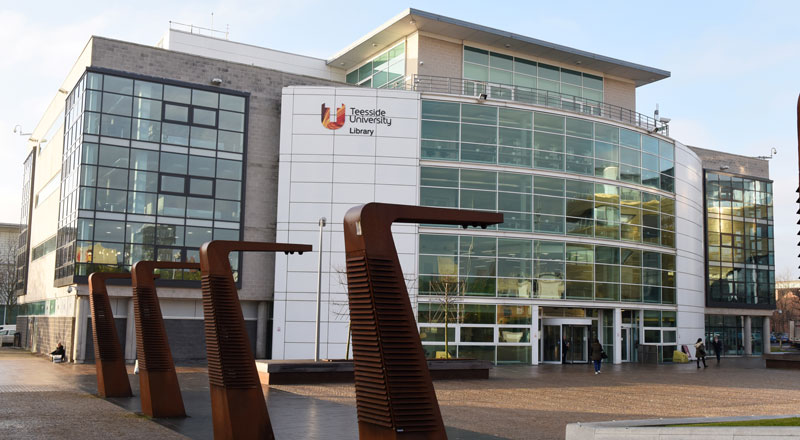 The 2017 RICS (Royal Institution of Chartered Surveyors) North-East awards will see more than 50 schemes of all sizes and budgets compete for industry recognition.
Eight categories include Building Conservation, Commercial Property, Community Benefit, Design Through Innovation, Regeneration, Residential, Tourism and Leisure and Infrastructure.
Teesside University Library is nominated for the Regeneration award, following completion of a recent phase of a multi-million pound refurbishment.
The University is spending £6m upgrading and enhancing its library facilities as part of its commitment to providing the best possible student and learning experience and this latest upgrade is creating a truly innovative and creative learning environment.
Improvements to the library include a range of flexible, technology-enabled, individual and group learning spaces, improved IT provision, new lighting and ventilation and additional digital support.
The latest development on the first floor is the second phase of refurbishment with over £2m previously spent in 2012. The additional floors are also undergoing refurbishment during the summer break to minimise disruption.
The Library regularly receives extremely positive feedback from students, scoring highly in the annual National Student Survey and International Student Barometer.
The University is committed to providing the highest quality learning environment for our students and staff
Malcolm Page, Teesside University Chief Operating Officer, said: 'It is fantastic for the University's Library to receive this recognition, following the success of The Curve which was named project of the year in last year's regional RICS awards.
'The University is committed to providing the highest quality learning environment for our students and staff. We are continuing to invest in the campus to ensure we continue to grow and to provide a first class student experience.'
Fusion Hive, an innovation centre based in the Northshore regeneration scheme in Stockton, has been nominated for the Commercial Property award. Opened in 2015, the centre which is managed by Teesside University has quickly established itself as a hub for ambitious SMEs looking to grow their business.
All shortlisted buildings will also be considered for the Project of the Year title, which last year went to The Curve at Teesside University.
The 2017 RICS Awards North East take place on 21 April in Newcastle. Winners will then go on to the national final in October.
---
In the News
Library refurbishment leads to prestigious award nomination
Public (Web), Unattributed, 15/03/2017
Teesside University's Library is among building projects shortlisted for a prestigious regional property award. Royal Institution of Chartered Surveyors) North-East award 2017