Successful partnership helping to prepare future social workers
A successful partnership involving Teesside University students and professional social workers has been celebrated.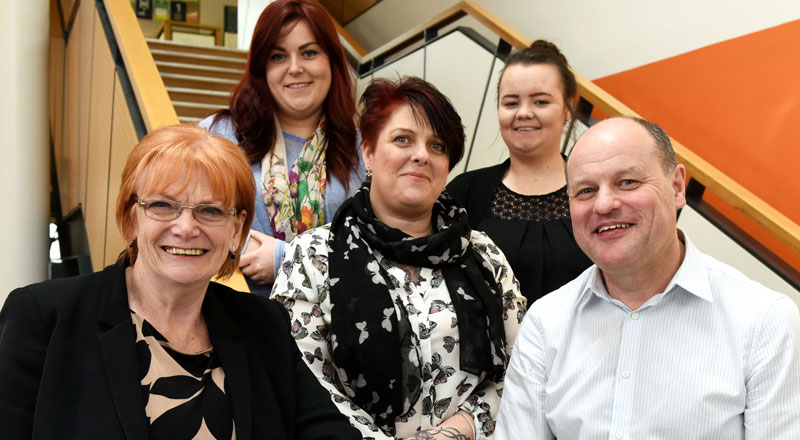 First year BA (Hons) Social Work students completed a curriculum development project which sees local authority social workers volunteering their time to help assess the students.
The project, known as the Assessed Conversation, involves social workers observing students as they converse with care leavers. It also has the aim of raising the aspirations of young people taking part by engaging them with the University. The social workers and care leavers volunteer their time.
Mike Wren, senior lecturer in social work in the School of Health & Social Care, said: 'Lecturers, students, social workers and young people leaving care are all involved in the Assessed Conversation, which we arrange through a partnership which has been running for almost nine years.
'The Assessed Conversation enables the students to put the theory they are learning into practice, while also having a role in helping the young care leavers to engage with the University and help to raise their aspirations.'
Care leaver Hollie Lowery, 23, from Hartlepool, said being involved in the project has increased her interest in social work. 'I have really enjoyed taking part as I am interested in finding out more about becoming a social worker. Speaking to the students has helped me to find out more about the degree and the training involved and it has made me interested in doing a university access course.'
Jayne Walker, who was among students being assessed, said: 'It helps to provide real life experience and build confidence in dealing with people facing different situations. It helps in learning to deal with different personalities and putting into practice what we are learning in our degree.'
As soon as my children reached school age I returned to education through the university access course
As a mature student, mum-of-six Jayne, 45, from New Markse, was involved in youth work but returned to education to broaden her career direction. She said: 'I wanted to expand my knowledge and become more involved in the whole process of social work. As soon as my children reached school age I returned to education through the university access course.'
Beth Burnside, who works as a social worker in Hartlepool, said: 'I have been really impressed by the skills shown by the students. They have shown lots of compassion, empathy and good communication skills.
'It has been really good to see their different personalities and from a personal point of view it is nice to be able to help the students' to learn. It's also interesting to meet the social workers of the future.'
Mike added: 'In recognition of the partnership and to reflect the charitable roots of the social work profession we hold charitable challenges to support local children's charities. This year we have been promoting the sale of pin badges and trolley tokens for Bloodwise, a charity funding research into blood cancers and dedicated support for children and their families.'
---