Home ›
Postgraduate students finding solutions for food waste
Postgraduate students finding solutions for food waste
A group of food science students at Teesside University have been researching alternative uses for out of date bread, which could prevent thousands of tonnes ending up in landfill.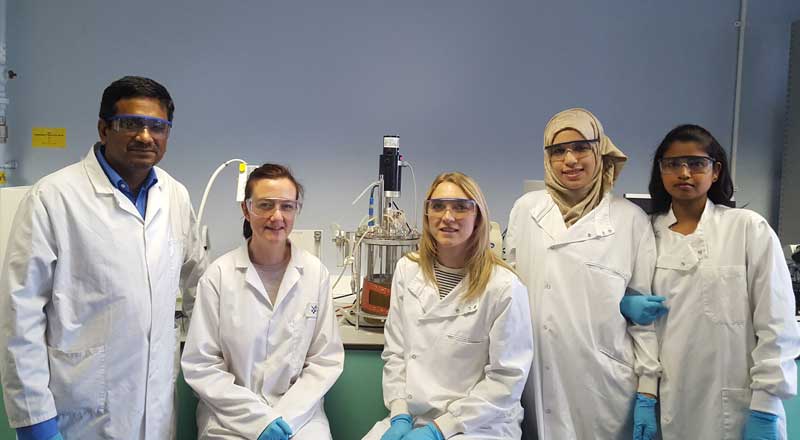 We waste almost 900,000 tonnes of bread every year – around 24 million slices every day. A lifecycle analysis by a major supermarket in UK found that 34% to 44% of all bread produced in the UK is wasted, with the majority ending up in landfill sites.
Teesside University MSc Food Science and Biotechnology students have been examining alternative uses for out of date bread and are set to present their findings at a national conference.
The Biotechnology and Biological Sciences Research Council (BBSRC) FoodWasteNet is an active community of industrial practitioners and academic scientists. The network aims to use industrial biotechnology to realise the potential of using food waste and by-products to produce renewable chemicals and biomaterials with added value and market potential.
The BBSRC network is supporting the students to present their work and findings on the topic of 'Valorisation of Bakery Waste to Produce Bio-emulsifier' at the national 'Grain, Cereal and Bakery Waste Valorisation' event in June.
Dr Pattanathu Rahman, course leader for Food Science and Biotechnology at Teesside University, said: 'The work conducted by our postgraduate students provides a value-added product for out of date bread. Their preliminary studies provide new insight for food waste management - the out-of-date bread which would otherwise end up in landfill could be used as a potential nutrient medium for microbial cultivation.
'Currently research organisations are spending thousands of pounds on microbiological media. The bread-based bacterial medium developed by our students could be a substitute for bacterial media requirements in future.
'I am pleased their work is being recognised by a leading research council network.'
---