International trip helps to broaden students' horizons
Teesside University students spent time in India during the summer to experience how physiotherapy and rehabilitation is practised overseas.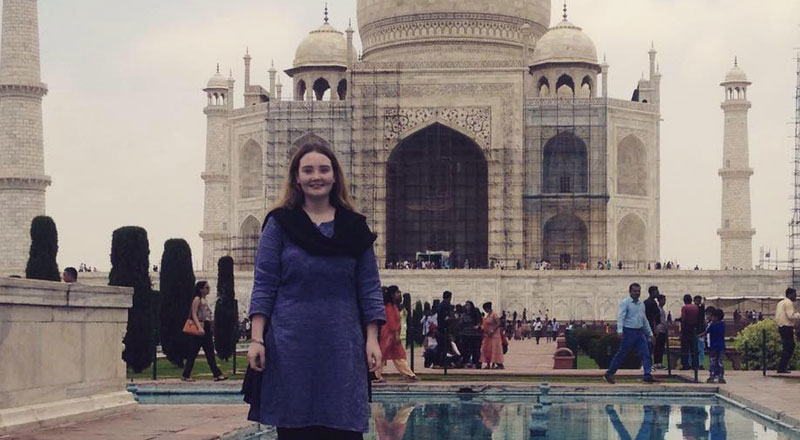 Leah Gibbs, third year BSc (Hons) Sports Therapy and Rehabilitation student, travelled to India with three other students from the same degree - Andrew Wilkinson, Erica Williamson and Liam Tuckey - spending six weeks shadowing professionals in hospitals and medical centres.
The students spent time at Fortis Hospital in Chandigarh, Madanta Medicity in Delhi and at a spinal injuries centre in New Delhi.
During their time in India they experienced different areas of physiotherapy, including neurological rehabilitation, respiratory physiotherapy within intensive care units, surgical intensive care units, musculoskeletal rehabilitation, orthopaedics and paediatrics.
Leah said: 'We were also included within multidisciplinary team meetings, which included consultants, doctors, nurses, physiotherapists and health care assistants.'
She said the trip to India came about as a lecturer in the academic school has close ties to teaching hospitals in Delhi.
Leah added: 'Teesside University is building on its international reputation and has an office in India which is dedicated to establishing high-quality partnerships and student recruitment opportunities in the region.
'During our time in Delhi, the Teesside office went above and beyond their duty to make our time in India memorable, with experiences which we will never forget.'
Teesside University is building on its international reputation
Gok Kandasamy, Principal Lecturer in the University's School of Social Sciences, Humanities & Law, said: 'The cultural and clinical exposure which such trips offer to the students helps to enhance their personal and intellectual maturity.
'I strongly believe that this type of student participation, cross cultural communication and ability to adapt to new circumstances not only increases the students' future employability opportunities but also widens the academic horizons in their further studies.'
Originally from Abertillery, a small town in South Wales, Leah said she chose Teesside University to study for two reasons. She said: 'Firstly it was the reputation of the sports therapy and rehabilitation degree and secondly, all of the amenities which students need to study are all in close proximity to each other.'
At the end of the students' trip, Leah decided to stay on an extra week to experience a visit to Goa. She said: 'I really enjoyed the fact that I could mix professional development with experiencing different cultures and visiting historical landmarks within India.
'The trip has empowered me to pursue and apply for postgraduate study, as well as providing me with valuable insights into the cultural differences within the physiotherapy profession and how practice is applied.'
---
---