Nursing student combines study with competing internationally
Nursing student Caitlin Owston has been combining her studies with representing Great Britain at international gymnastics championships.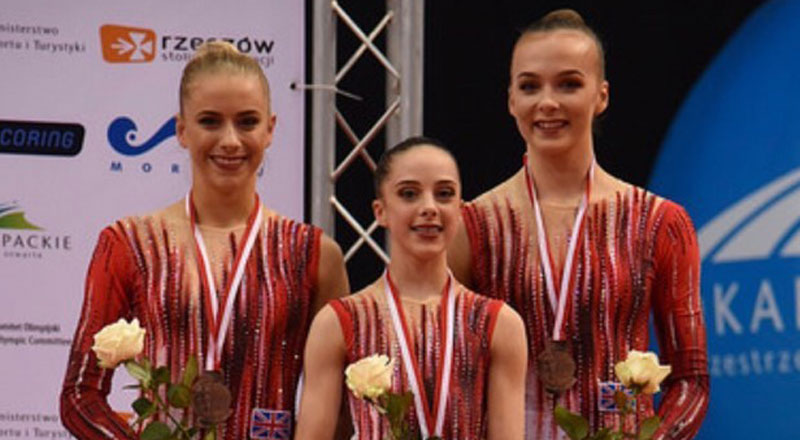 BSc (Hons) Nursing Studies (Child) student Caitlin, 19, competed at the European Championships in Rzeszow, Poland, as part of the GB team. She competed as part of a trio against teams from 11 other nations.
Caitlin said: 'We managed to reach all three finals in the three different routines we were competing in, taking the bronze medal for our dynamic routine.
'I competed as a trio with two other girls in the 13 to 19 category, Bethany MacDougall and Amelia Pamler, representing Great Britain.'
The team was placed fifth overall, with Caitlin adding: 'We are extremely happy as the standard of the competition was extremely high.'
The trio recently won the National Championships and currently hold the British Championships title after a gold medal-winning performance during the summer.
Caitlin, who was born in Carlisle and grew up in Durham, has been involved in gymnastics since the age of five. She trains for four hours, five times each week, at Deerness Gymnastics Academy in Durham.
She said: 'To be selected to compete in Poland we had to be recognised by the national coach as having potential from our previous results. We then had to attend a trial at Lilleshall national sports centre and compete our routines in front of a panel of judges.
I choose Teesside to study as it has an amazing success rate and is known for its reputation in nursing
'The second trial took place at the British Championships in Liverpool, where we managed to take the gold medal and the title of British champion.'
Caitlin, who is currently completing the first year of the degree, said: 'I choose Teesside to study as it has an amazing success rate and is known for its reputation in nursing.
'I also know other people who have studied here before and have thoroughly enjoyed it. It is also close to home, so it means I can continue to train.'
She added: 'I'm enjoying learning new skills in something I'm interested in and I can't wait to go out on placement and experience the profession at its fullest.
'I hope to finish my degree and qualify as a child nurse, while in gymnastics I'm continuing to train in the hope we can qualify for team GB again and manage to compete at the world championships in April.'
---