Animation students bring audio to life in BBC project
Students from Teesside University have been working with the BBC to develop a series of animations to support The Listening Project archive.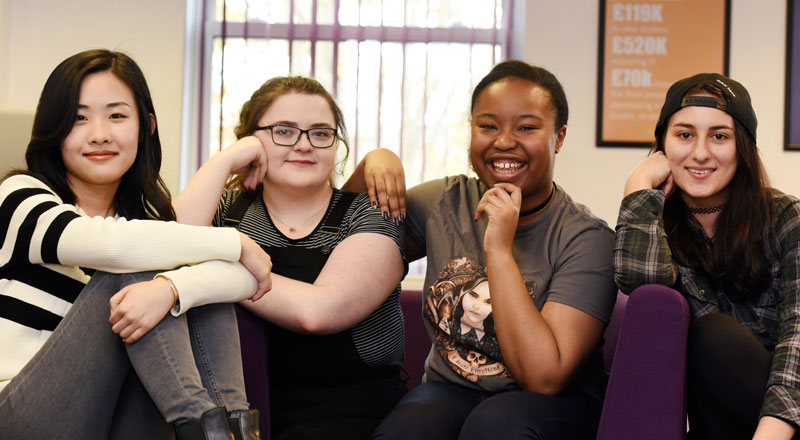 The BBC Radio 4 Listening Project archive is a library of intimate and personal audio conversations which provide a unique insight and commentary on UK society.
Teesside University students are among those who have created animations to complement the edited audio recordings, with over 60 animations now live on the BBC's website and iPlayer.
Seven animators are involved from the University's School of Computing, Media & the Arts. They are BA (Hons) Computer Character Animation students Benedict Farley, Yaxi Zhang, Mario Elias Delgado Garcia, Tamanya Thorpe-Slater, Andreea Rosu and BA (Hons) Computer Animation and Visual Effects students Aymee King and James Lacey.
The projects they worked on:
Light Sensitive - Alice and Tracey, animated by Yaxi Zhang. Watch the animation
Yaxi, 21, from Beijing, China, has animated a conversation between Alice and her mum about a condition which causes extreme sensitivity to sunlight. Yaxi said: 'It was the first time I had heard about Xeroderma Pigmentosum and I was attracted by Alice's experience. I was amazed by how strong and calm she is, and how peacefully she and her family accept their life.'
The Key To Heaven – Victor and Finola, animated by Aymee King. Watch the animation
In the conversation animated by Aymee, pensioner Victor talks to a mentor who taught him to read and write. Aymee, 22, from Aylesbury, said: 'It was such a beautiful analogy, like a bird flying from a nest and as I listened, I could just see it coming to life in my mind. I could imagine how alone and alienated Victor must have felt in a world that was literate when he was not. I also thought it was a great example of how you are never too old to make a great change.'
More Than Just Hair – Jan and Ama, animated by Tamanya Thorpe-Slater. Watch the animation
Tamanya animated a conversation between a mother and daughter who discuss how the identity of black women has changed, with dreadlocks having a different significance. Tamanya, 24, from London, said: 'I love how emotive both these women are. I felt I could genuinely add to the discussion, as if sat alongside the two. This conversation has cultural and political importance among those of representation, equality and acceptance of difference.'
Protective Brothers – Neil and Mark, animated by Andreea Rosu. Watch the animation
The film animated by Andreea tells the story of Mark, who has Downs Syndrome, and how his older brother Neil remembers him being born and has always wanted to protect him. Andreea, 20, from Romania, said: 'This conversation shows a wonderful relationship between two loving brothers. I wanted to show their strong connection in my animation.'
Identical Identity – Jon and Mat, animated by Mario Delgado. Watch the animation
Mario's animation complements an audio conversation between twin brothers and their struggle with personal identity. Mario said: 'I have always found the concept of identity interesting. The feelings from the conversation and the visual research made me try different ways of representing parts of the conversation, hoping to convey not only what was being told, but also what was felt.'
Adoption – Matthew and Mike, animated by Benedict Farley. Watch the animation
The audio animated by Benedict is about adoption. He said: 'I chose to develop the conversation between Mike and Matthew primarily because of its links with family which is something I am very passionate about. Matthew was adopted in such interesting circumstances. It's a good example of how influential we can all be and how important parenthood is.'
Falklands – Laurie and Brian, animated by James Lacey. Watch the animation
In the audio animated by James, Laurie can be heard speaking to his father-in-law Brian about his ship being hit by a bomb in the Falklands War. James said: 'For me, this story has a nice message to it which will resonate with a lot of people. The message is to never take life for granted.'
Marya Burgess, The Listening Project series producer, Radio 4, said: 'Our collaboration with animation students from university departments around the country has added a valuable dimension to some of our Listening Project conversations. While we are, and will remain, all about listening, these imaginative visualisations have supplied sometimes surprising interpretations which enhance the listening experience.'
Justin Greetham, Senior Lecturer and project co-ordinator, said: 'The recorded conversations are very personal and cover a range of subjects, which has enabled us to use the Listening Project as a way of encouraging the students to create original narratives and develop skills which they will carry through as they continue their animation studies.
'Feedback on their work has been continually provided by the BBC throughout the project, which has been very beneficial for the students. It is testament to the students themselves too that they have had their work selected by the BBC to be showcased in this way. Many of our animation students go on to work in the animation industry worldwide, with our courses highly regarded.'
---