Mechanical engineering graduate wins award recognition
A Teesside University graduate's innovative suggestion for a hybrid generator exhaust system to enhance efficiency in hybrid cars has been recognised in a national competition.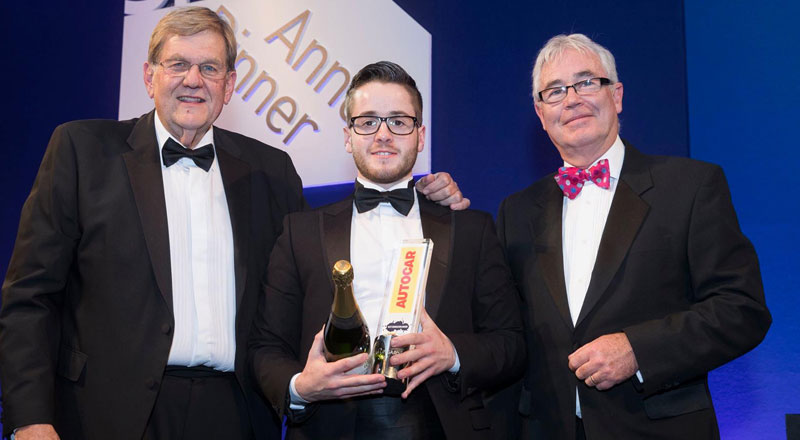 Tom Lingard's idea for a generator system which could significantly boost the efficiency of a petrol hybrid car has topped this year's Autocar Courland Next Generation Award 2017.
Tom, 25, from Stockton, who graduated from the University's MEng (Hons) Mechanical Engineering earlier this year, proposed using a power generator which is driven by the car's exhaust gases to input energy into the electric system.
The generator would top up the charge of a hybrid car's battery or even drive its ancillaries, such as coolant and fuel pumps, increasing its fuel efficiency. Reducing the work of the engine would allow it to drink even less fuel.
The Next Generation Award aims to help each year's winner develop a career within the automotive industry. As part of his prize, Tom will complete a six-month work experience journey with award sponsors including Jaguar Land Rover, McLaren Automotive, Nissan, Toyota, Honda and Horiba MIRA.
Tom said: 'It is an honour to be announced as the winner of the Autocar Courland Next Generation Award 2017. It was a fantastic experience, from the intense judging process to the mentoring programme.
'It's extremely exciting to have won the internship rotation and to be able to experience everything in six months right at the beginning, rather than over the space of 20 years. It is an incredible opportunity.'
Staff are happy to help and the course is accredited by the ImechE, which can bring many benefits to your future career
The judges commended Tom's proposal for its topical focus, which comes at a time when the automotive industry is investing heavily to improve efficiency and performance in hybrid power units.
Autocar editor-in-chief Steve Cropley added: 'The initiative has delivered, once again, a phenomenal level of talent with some highly innovative ideas that could seriously improve the automotive industry. Tom's idea evaluated industry demands combined with a changing vehicle landscape.'
Tom said of his time at Teesside University: 'I chose to study at Teesside because it's close to home and offered the engineering course I wanted to study. Teesside University was also highly recommended by my sixth form teachers, and it was a popular choice with many of my peers.
'During my degree I opted for a work placement as part of my course, which was very enjoyable and helped me develop professional skills in the workplace. My placement year enabled me to contextualise what I was learning and helped me to reconsider how I perceive challenges and opportunities.
'I would recommend Teesside University and particularly my course. Staff are happy to help and the course is accredited by the ImechE, which can bring many benefits to your future career.'
---