Teesside University hosts Royal Society visit
Representatives from the world's oldest independent scientific society visited Teesside University to learn about the work that it is doing to forge links between industry and academia.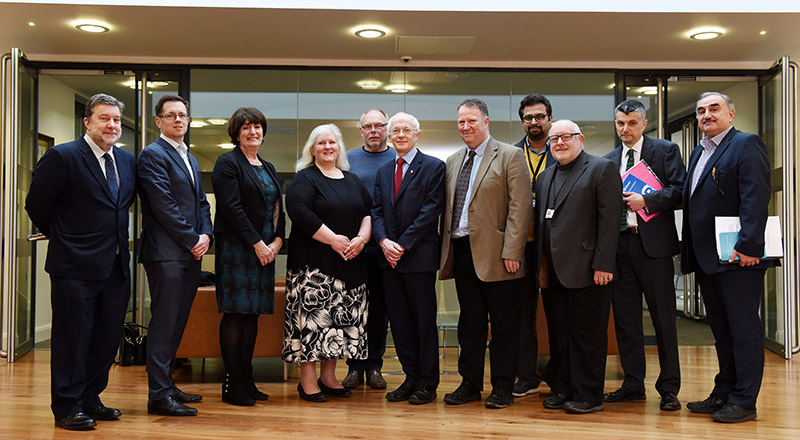 Dr Katy Gearing, Head of Industry Engagement at the Royal Society, and her colleague, Industry Programme Manager Dr Alasdair Taylor, met with staff from the University to learn about how it is collaborating with businesses in the Tees Valley and beyond.
The Royal Society is the independent scientific academy of the UK and the Commonwealth, dedicated to promoting excellence in science.
The Royal Society will be coming to the Great Exhibition of the North later this year and Dr Gearing and Dr Taylor were visiting the region to find out about examples of how universities collaborate with business.
Dr Gearing said: 'We're looking at how industry and academia can work together and ways in which we can improve that and put people in touch with each other.
'The ability to move between industry and academia is really important with real societal and economic benefits.
'The Government has committed to investing 2.4% of GDP in Research and Development.
'To help them achieve that we need to understand the nuance of the different regions and look at great examples of good practice to understand how we can better support the national economy.'
Teesside University has an established track record for working with business. It recently was awarded the Putting the Customer First standard for the fifth time in succession for its business engagement work.
The University has also just started construction of the £22.3 million National Horizons Centre, a research, teaching and training facility which will help drive economic growth in the regional and national bioscience industries through industry-focused education and training and collaborative research and innovation. Laura Woods, Director of The Forge, Teesside University's business hub, said: 'As an anchor institution for the Tees Valley, Teesside University makes it a key part of its mission to help drive economic growth through skills, knowledge and partnership with industry.
'The Royal Society has an immense reputation and we were delighted that Dr Gearing and Dr Taylor took such an interest in the wide range of work that the University does with business.'
---
---