Teesside University proud to host new green initiative
A new green and sustainable travel initiative has been launched at an event at Teesside University's Campus Heart.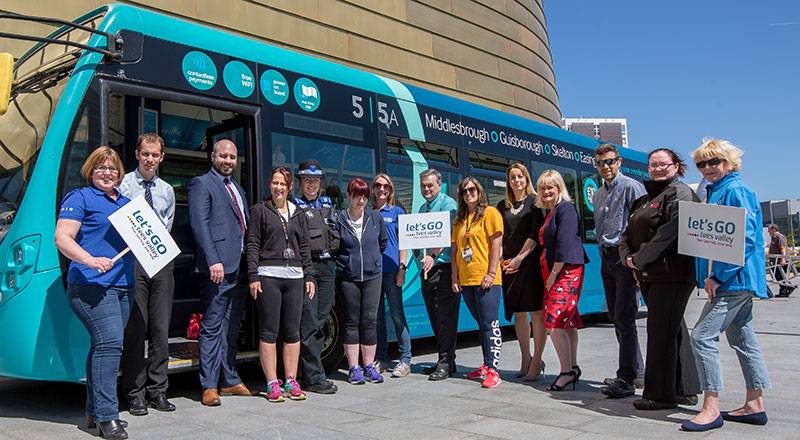 The Middlesbrough Commuter Challenge, a project by Let's Go Tees Valley, is a week-long challenge for staff at participating organisations to change the way they travel.
Let's Go Tees Valley, funded by the Department of Transport's Access Fund and supported by the Tees Valley Combined Authority, aims to get more people out of their cars to improve their health and wellbeing and the environment.
The challenge asks people to consider the way that they commute and promotes the use of walking, cycling, car sharing and the use of public transport to get to work.
Teesside University is taking part in the challenge alongside staff from the James Cook University Hospital and Chemoxy International.
As part of the event, an Arriva Sapphire Elite bus was brought onto campus, as well as a 7-seat bicycle and University-owned bicycles for staff to try out. Police were on hand to assist with bike security marking and Dr Bike, from Middlesbrough Environment City, was also present to check and fix any minor problems with bikes.
The campaign highlights the many benefits of using alternative transport methods, including improving health and wellbeing, saving money, reduced sickness levels, improving air quality and the environment, reducing pressure on parking and reducing traffic congestion around the town centre.
Georgina Burke, Marketing and Communications Officer at Let's Go Tees Valley, said: 'Yesterday's launch event was a great way to kick off the challenge, which already has over 160 staff across four organisations signed up to take part.
'We hope that once people get a taste of greener travel, they will discover the benefits of higher energy levels, better mental health, more 'me' time and even cheaper journeys. Ultimately, it's better for them, their organisations and our environment as a whole.'
We were delighted to host the launch of the Middlesbrough Commuter Challenge here on our campus.
The launch on campus is part of Teesside University's ongoing commitment to both highlight and improve environmental issues.
The University is dedicated to its environmental responsibilities and is committed to retaining its Gold EcoCampus accreditation – a scheme which recognises the University for addressing key issues of environmental sustainability, including carbon reduction.
EcoCampus is a national environmental management system award scheme for the higher education sector. This prestigious award enables the University to work in a consistent and pragmatic way towards ensuring that it manages its environmental obligations.
Richard Cuthbert, Environmental and Travel Policy Officer at Teesside University, said: 'We were delighted to host the launch of the Middlesbrough Commuter Challenge here on our campus.
'The University recognises the impact its operations can have on the local environment and we are keen to encourage everyone to think about how they travel to the campus.
'We have excellent facilities on campus for staff and student cyclists, and a number of incentives available for our staff such as the cycle scheme which enables staff to purchase pedal bikes tax free via deductions from salary payments, alongside schemes for the purchase of bus and rail season tickets.'
To find out more about the Middlesbrough Commuter Challenge, visit the Let's Go Tees Valley website.
---
---
In the News
Commuters racked up more than 4500 miles in greener travel
Middlesbrough Council, online, 01/06/2018, Tees Business, online, 06/06/2018
Staff from Middlesbrough Council, The James Cook University Hospital, Teesside University and Chemoxy International took part in the commuter challenge run by Let's Go Tees Valley.
---
Middlesbrough commuters take the first step to healthier travel
Tees Business, online, 16/05/2018
Staff from four major Middlesbrough employers have taken the first step to a healthier, happier lifestyle by signing up to the Let's Go Tees Valley commuter challenge.