Student nurse scoops Nightingale honours
A Teesside University student has become the first student nurse to be crowned as the overall winner of South Tees Hospitals NHS Foundation Trust's Nightingale Awards.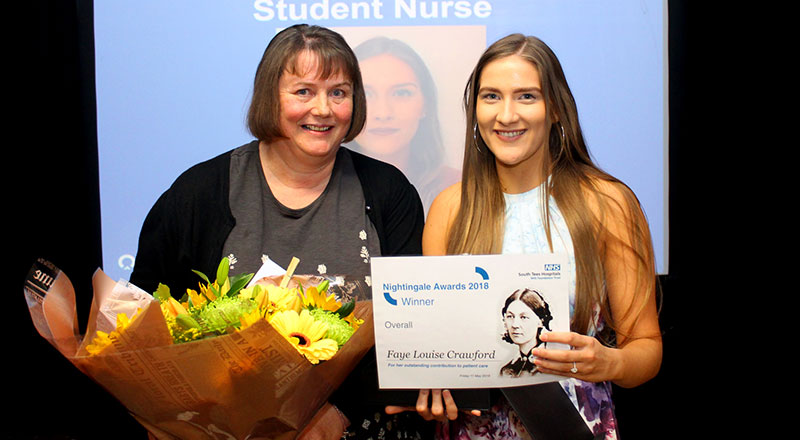 Faye Louise Crawford received the prestigious title for showing exceptional determination and professionalism after she continued with her studies despite experiencing a family tragedy.
The student nurse bravely returned to her role just days after suddenly losing her mother, Kerry Crawford, for whom she said this award would have been 'a dream come true'.
Patients at The James Cook University Hospital also praised the 23 year old for providing a high level of care and for her positive and friendly attitude.
Faye, who lives in Redcar and starts her third year at Teesside University in September, said: 'It is such an honour and privilege to win the Nightingale Awards 2018. I am beyond amazed and would just like to thank everyone who has supported me throughout my nursing qualification.
'My nursing journey has definitely not been what I expected it to be. It's been very challenging, undoubtedly rewarding, but also the most incredible experience in my life. I know my beautiful mam will be proud of me every day, she always said I was her little Florence Nightingale.
I was especially delighted and proud to be able to present Faye, with the overall Nightingale Award – she's an exceptional student nurse.

'I'm just appreciative of everyone, especially my mentor Sue Mortimer who nominated me, as she was brilliant and amazing through such a difficult time in my life. Everybody has been so great to me.
'I'm hoping, fingers crossed, to be back at South Tees for my third year and to then get a job here as well.'
Wendy Anderson, the Trust's Macmillan Nurse Consultant for Chemotherapy, said: 'These awards recognise those nurses and nursing teams who go above and beyond the call of duty, striving to provide the highest standard of patient care across our Trust. This year we had more than 200 nominations.
'Congratulations and well done to all the nominees. I was especially delighted and proud to be able to present Faye, with the overall Nightingale Award – she's an exceptional student nurse.'
Maureen Rutter, Non-Executive Director, added: 'This is the first time a student has won the Nightingale Award. I have loved every minute of being a nurse and I'm really proud to say that my profession is safe in Faye's hands.'
---