Teesside student hits top gear
A Teesside engineering student is starting a dream placement working to help create Formula One PowerUnits at one of the most elite engineering firms in the world.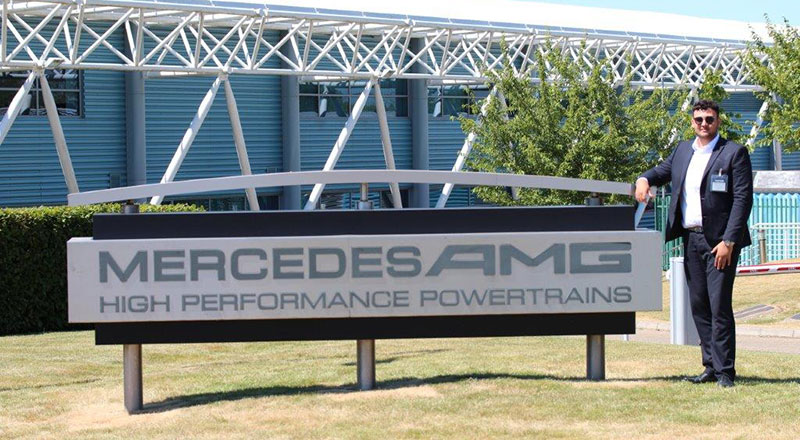 Kalani Ajisafe, who has just completed the third year of his MEng (Hons) Electrical and Electronic Engineering degree at Teesside University, will start a year-long placement at Mercedes AMG High Performance Powertrains (HPP) in September.
Mercedes AMG HPP has a team of over 500 people responsible for the complete design, manufacture and testing of Formula One Power Units for Mercedes AMG Petronas, Sahara Force India and Williams Martini Racing.
As part of his work placement, Kalani, 21, will be working on the energy recovery system (ERS) – systems which are solely for the Mercedes Formula One cars, Project One cars and Formula E cars. Kalani will be involved at all stages including design, building, testing and troubleshooting.
Mercedes boasts one of the most successful drivers in Formula One history, Lewis Hamilton, and it would be Kalani's dream to work at races during his placement.
'I have a keen interest in Formula One and the sport is one of the reasons I decided to get into engineering. I came across the placement opportunity with Mercedes AMG HPP online – it was perfect for me as I'm a big Mercedes and Lewis Hamilton fan,' Kalani explained.
'The recruitment process was very challenging but also enjoyable. I completed an online application and test and then I was invited to the site to complete an assessment centre day. I took part in a team exercise followed by an in-depth technical interview.'
We encourage all students to participate in placement schemes and I hope that Kalani's success will inspire and encourage more students to aim high.
Students studying engineering degree courses at Teesside University all have the opportunity to undertake a year-long paid industry placement, prior to completing the final year of their degree. For Kalani, gaining real-world practical experience is crucial to his success.
'I think placements are just as important as your studies, if not more. I have previously completed three engineering-related summer placements, all in totally different roles, and they have given me not only a great understanding of my own strengths and weaknesses, but also what areas of engineering I'd like to go into in future,' Kalani added.
'Doing a placement with Mercedes AMG HPP is very surreal. Having my dream job so early in my career is a true blessing and testament to the hard work I have put in. I'm excited to gain elite-level experience and hope to make a positive contribution to Mercedes and both Formula One and Formula E sports.'
Neville Winter, Senior Lecturer in Electrical Engineering, said: 'Kalani has done exceptionally well to secure this prestigious placement at a world-leading company.
'The competition for placements within this sector is fierce so it is a testament to Kalani's ability that he has gained such a position. We encourage all students to participate in placement schemes and I hope that Kalani's success will inspire and encourage more students to aim high.'
---