New Zealand unveiling for system set to 'revolutionise' construction industry
A North East firm which has worked with Teesside University to develop a ground-breaking system to revolutionise the construction industry has launched it at a global unveiling in Auckland, New Zealand.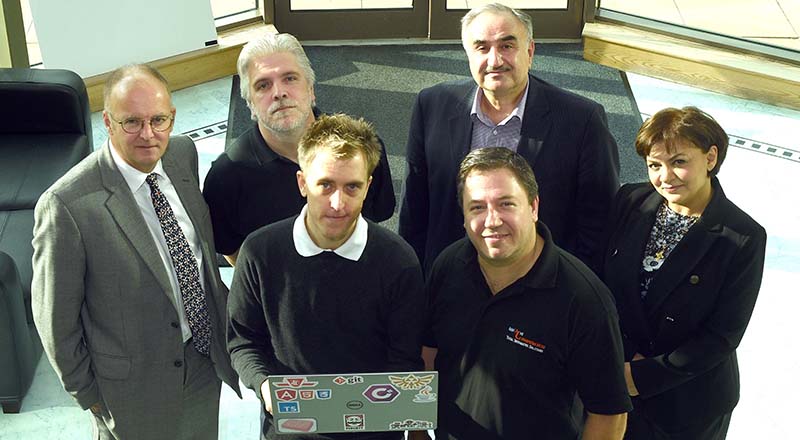 ArchiTrack has been developed by Applied Integration and the Stokesley firm believe it will save millions of pounds and countless man hours on major construction projects.
It was formally unveiled at the International Conference on Construction Applications of Virtual Reality.
The conference was attended by world-leading experts in virtual reality, augmented reality and building information modelling.
Applied Integration, who specialise in providing cutting edge solutions to the petrochemicals, oil, gas and defence sectors, have developed ArchiTrack over the past two years in partnership with Teesside University and Innovate UK.
The firm, which has also developed automated control systems for the Royal Navy's Astute-class submarines, believe they are 'pushing the boundaries of innovation' with the development of the software tool which is designed to record the ongoing architectural changes with a building's construction.
ArchiTrack has been developed by Applied Integration after they joined forces with Teesside University in a two-year, government-backed Knowledge Transfer Partnership (KTP).
Designed to encourage businesses to improve their competitive edge and productivity through the use of emerging expertise and innovative technologies, KTP is a nationwide programme helping firms make better use of the UK's knowledge, technology and skills-base.
Software engineer Dr Jonathan Siddle, who recently joined Applied Integration on a permanent basis after leading the project as an associate on the KTP, presented ArchiTrack to the industry experts at the University of Auckland's flagship science centre last month.
Applied Integration also worked with academics within Teesside University's School of Science, Engineering & Design on the KTP.
Applied Integration director Garry Lofthouse said: 'ArchiTrack will save time, confusion, miscommunication and, ultimately, millions of pounds within the construction industry.
'We firmly believe this will revolutionise the industry.
'We always believed this had far-reaching potential within the industry but the progress the KTP has made in its development means we're now anticipating an even bigger impact than we initially believed possible.' Professor Nashwan Dawood, the KTP academic lead, said: 'The new approach developed by this KTP to identify changes in design of buildings using natural language processing and game engine technology will be a massive leap towards efficiency in the design process.
'This should contribute hugely to reduction in costs of rework by identifying and resolving clashes earlier on before construction starts.'
Dr Vladimir Vukovic, the KTP supervisor, said: 'It was a privilege working with such an innovative company as Applied Integration which recognised the immense potential in the ongoing digital transformation of the construction sector.
We always believed this had far-reaching potential within the industry but the progress the KTP has made in its development means we're now anticipating an even bigger impact than we initially believed possible.
'I hope the software for automating change detection in digital construction that we helped to develop during the course of our KTP will contribute to cost reduction, quality and productivity improvements in many construction projects.
'I'm looking forward to seeing in practice the prospective futuristic features of automated model updating based on voice recognition and natural language processing.'
Ian Blakemore, Knowledge Transfer adviser with KTN representing Innovate UK, who provided funding for the KTP, added: 'The project has meant a quantum leap in the accessibility of technology and a novel product being brought to market. It's an excellent example of academia working closely with business to generate significant commercial impact from the application of knowledge.'
Dr Huda Dawood, the KTP academic co-supervisor, stated: 'ArchiTrack is a standalone software, therefore the user is not restricted by using specific and expensive construction design software and there are no issues with interoperability.'
Garry Lofthouse believes ArchiTrack, as an automated design and planning platform, will make a big impact.
'When you look at the amount of lost value that delays have across the construction industry, it is ridiculous really,' he said.
'The truth is that the handling and communication of change within the industry is generally poor. In fact, up to 23% of total contract values are attributable to rework or changes on delivery.
'But ArchiTrack can accurately track the complex architectural changes to a building during the construction process, highlighting and categorising changes to help avoid the sort of costly delays the industry frequently suffers.'
He added: 'In many ways, this is an alien marketplace for us but the university's academics were convinced from the start that it was a major step forward for traceability within the industry.
'The system's original concept was purely for the in-house benefit of Applied Integration but Jonathan's commitment to the project together with the university's support, means we've taken ArchiTrack well above and beyond where we initially anticipated.
'We've already much positive feedback from potential customers but through feedback from the industry's movers and shakers at the Auckland conference, we'll spend more time refining and enhancing the software ahead of launch.'
Dr Siddle, who has a doctorate in Computer Science from Teesside University, added: 'The KTP has given me a great opportunity to apply my expertise to deliver a solution for a real-world problem – which has the potential to be such a game-changer within the sector.'
---
---