Two reasons to celebrate for award-winning graduate
Annabel Law swapped the Army for academia and the choice looks to have paid off as she was toasting a double celebration earlier this month.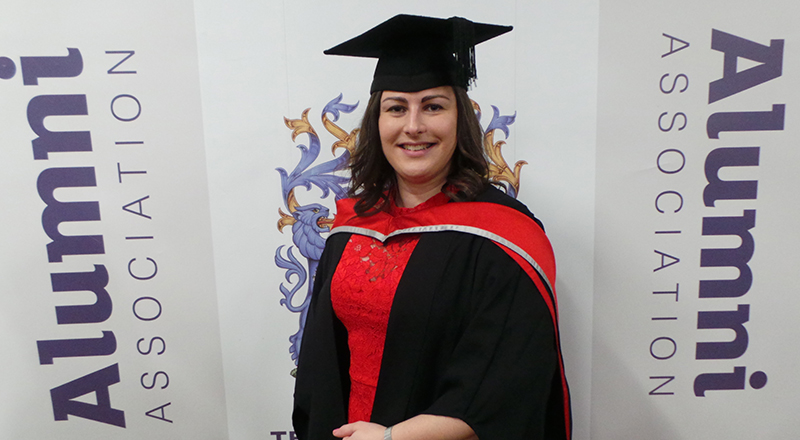 Not only did she graduate from Teesside University with a BSc (Hons) Paramedic Practice, but she was also awarded the Student Paramedic of the Year prize from the national College of Paramedics.
Annabel, 31, spent seven years in the Army as a Combat Medic, completing two active tours of Afghanistan.
But she returned to civilian life to further her career opportunities and enrolled on the degree course at Teesside University.
She now works as a Paramedic for the Yorkshire Ambulance Service and returned to the University earlier this month to pick up her awards at the annual Winter Graduation ceremonies.
'It was a really emotional day,' explained Anabel.
'I remember putting my gown on and when I looked at my mum, we just both started crying.
'It was a really proud moment to graduate and to receive the award as well – it makes all the hard work worthwhile.'
As a graduate, Annabel joins the Newly Qualified Paramedic Programme which she is aiming to complete on a fast track basis to progress her career.
The facilities are fantastic and the lecturers really support you throughout the whole process.
'I just want to grasp every opportunity that comes my way,' she said.
'I am really enjoying being a Paramedic and every day brings different challenges. It is similar to being an Army Medic in some ways, but the work is much more varied. I can be assessing patients, administrating medicine, providing emergency treatment – there is a lot of pressure and a lot of responsibility, but the job is incredibly enjoyable.'
Annabel, who now lives in Barnsley, said the course at Teesside was a perfect mix of practical placements and theory sessions delivered at the University.
She added: 'It was certainly the correct decision to come to Teesside University and I had an amazing experience during my three years. The facilities are fantastic and the lecturers really support you throughout the whole process.
'To receive the Student Paramedic of the Year award was also a great achievement for me and something I didn't expect. It is certainly something that will inspire me and help me to progress in my career.'
---
Course details
---