Cybersecurity student shares expertise at international event
Teenage computer hacker turned cybersecurity student Tom Johnson has come full circle after being asked to speak at an international conference looking at digital crime.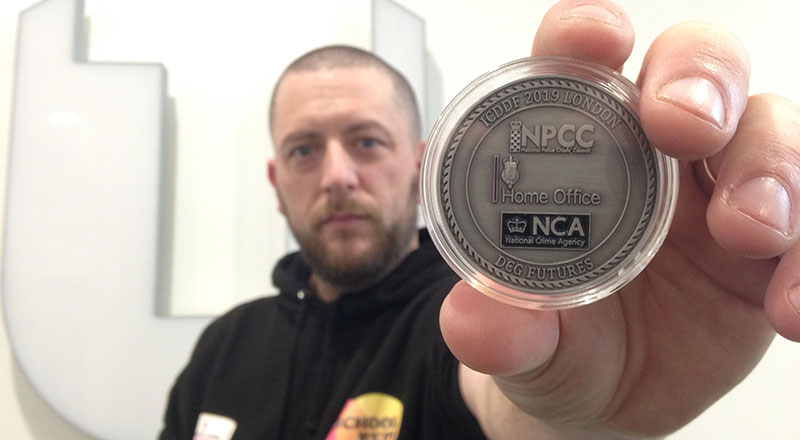 Teesside University student Tom was invited to give a presentation at the International Communications Data and Digital Forensics (ICDDF) conference held at Heathrow, where he rubbed shoulders with delegates from the FBI, Home Office and Metropolitan Police.
Tom, a second year BSc (Hons) Cybersecurity and Networks student in the University's School of Computing & Digital Technology, gave a talk called 'social engineering and hacking the human' which looked at how easily people can be manipulated into unknowingly giving away data or information which can be used by criminals.
He said: 'I have been interested in the whole concept of hacking since I was about 13, but I was put off after getting into a bit of trouble for hacking after starting college.'
Having left college, Tom worked in various jobs and roles before setting up an arts and crafts design business which later folded and led him to eventually decide to return to education.
'Computing has always been my passion and it was something I had always wanted to do, so it was brilliant to be able to draw from all of my personal experience and knowledge and secure a place as a mature student at Teesside,' said Tom, who is originally from Stockton.
'Teesside University has a good reputation for computing and I am planning to set up a training company once I graduate next year.'
Teesside University has a good reputation for computing and I am planning to set up a training company once I graduate next year
Tom is already combining his studies with work in the cybersecurity industry, having recently been commissioned by an organisation to carry out penetration testing, which involves checking the online presence of businesses to identify vulnerabilities before they can be identified by criminals and hackers.
He added: 'It was a massive honour to be asked to speak at the international conference. I was invited to speak after I gave a presentation at a regional conference at the Stadium of Light.
'The ICDDF attracts around 6,500 delegates from law enforcement agencies around the world, such as UK police forces, the FBI, the Home Office, the National Crime Agency and Government agencies. It was nerve-racking getting up to speak in front of so many people, but it really has helped my confidence.
'Teesside University gave me a chance to study towards a degree and I have given it my all and hopefully by being invited to take part in international conferences such as this I am giving something back.'
The annual ICDDF aims to address some of the complexities of criminal and civil investigations in the digital world, which rely on the ability to uncover and exploit communication activities using new technologies.
---