Staff and students team up to compete in duathlon event
Teesside University staff joined forces with students from sports-related courses to compete in this year's Stockton Duathlon Festival.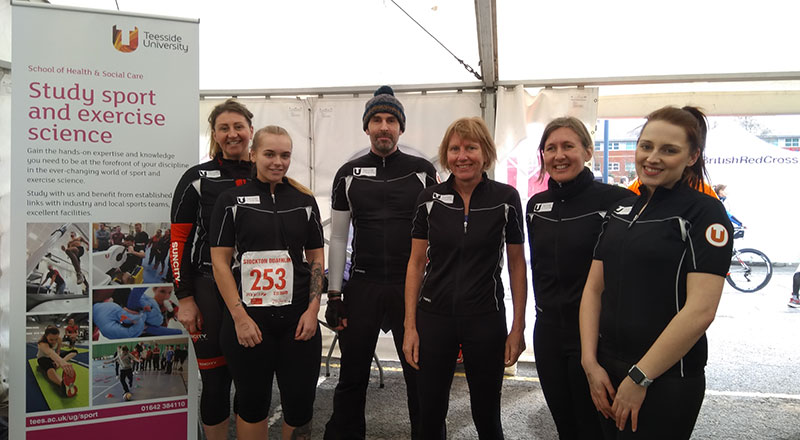 A 16-strong Teesside University team, comprising staff and students, took part in the duathlon event, held annually in Stockton. The duathlon includes three events combing cycling and running; Super-Sprint, the Sprint Race and the Standard Race.
The team donned Teesside University branded kit, which was specially printed by Fashion and Textiles students from the University's School of Science, Engineering & Design.
Competing in the Sprint - 5km run, 20km cycle ride and 2.5km run - were Mike Graham, Sport & Exercise graduate tutor; Hazel Wright, Sport & Wellbeing Coordinator; Nigel Hornsby, Tees Valley Sport Assistant Project Officer and Alison Innerd, Senior Lecturer in Sport & Exercise.
Mike, who is training for the Hart Side Pass Everesting Challenge ahead of the event this summer to raise funds for Melanoma UK, finished in one hour and 11 minutes, followed by Nigel in one hour 17 minutes. He was closely followed by Hazel, who has qualified for the World Championships. Alison, who suffered a tracker mishap and completed an extra cycle lap, finished in one hour 35 minutes.
BSc (Hons) Physical Activity, Exercise and Health student Jo Matthews, BSc (Hons) Sport and Exercise Science student Chris Mallam and Senior Lecturer in Sport & Exercise Lynsey Bainbridge competed in the Super-Sprint 2km run, 10km cycle ride and 1km run. Jo finished fifth woman and third in her age category and Chris finished in an impressive 18th place. Star of the team was Lynsey who used her own sport psychology strategies to finish third woman and second in her age group.
First Teesside team across the line in the Standard Race - 10km run, 40km cycle ride and 5km run - with a time of two hours and 23 minutes included Natalie Connor, Research Associate at Tees Valley Sport and Jean Lordon, Tees Valley Sport Executive Director. Second team to finish was last minute stand-in Chris Brown, Club Hockey Player; Louisa Ells, Professor in Public Health and Obesity; and third year BSc Coaching Science student Courtney Mcmahon.
It is a great opportunity to build relationships and build a connection between students and staff
Final team to finish was Amy Weatherburn, first year BSc Physical Activity, Exercise and Health student; Dom White, Senior Lecturer in Sport & Exercise; and Sharon Gayter, ultra-distance runner and part-time lecturer.
Alongside the competitors, Laura Fleming, Senior Lecturer in Sport & Exercise, spent time talking to race goers about the University's sport and exercise courses and free massages to help competitors ease their aching muscles were provided by sports therapy and rehabilitation students, led by placement and clinic co-ordinator Debbie Harris. Laura and Debbie also spoke to the event announcer over the tannoy to publicise the University's courses and to encourage the staff and students taking part.
Alison, Senior Lecturer in Sport & Exercise, in the University's School of Health & Social Care, said: 'The team included a real mixture of abilities and ages with some having previously completed duathlons and triathlons and others new to this type of thing.
'It is something we have wanted to do as it is a great opportunity to build relationships and build a connection between students and staff. We were able to prepare for the event with the help of Stockton Council who provided a triathlon coach to give us an induction to the sport.'
---