Fine art student's sculpture design shortlisted for prestigious award
Fine Art student Cameron Lings has been shortlisted to create a design for a prestigious sculpture park in Northumberland.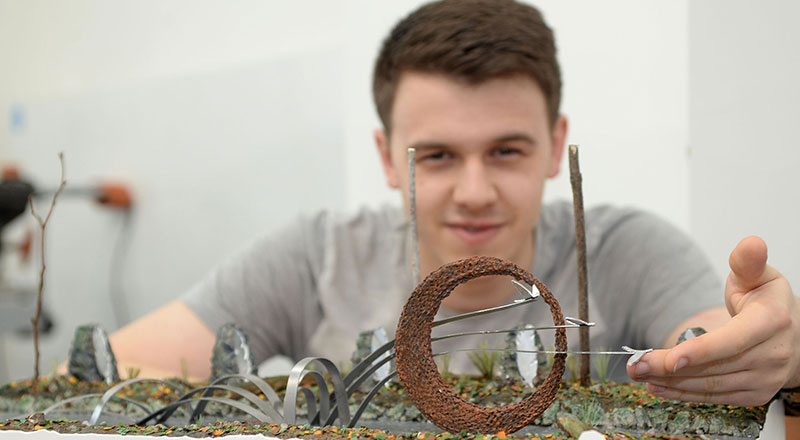 Cameron, a second year BA (Hons) Fine Art student in Teesside University's MIMA School of Art, has been shortlisted as one of just ten finalists for the title of 2019 Gillian Dickinson North East Young Sculptor of the Year.
North-East artists aged from 18 to 25 were encouraged to submit a proposal for an installation to be created at Cheeseburn Sculpture Gardens.
The winner will receive £6,500 to develop their proposal into an installation or sculpture to be displayed at Cheeseburn, which hosts internationally renowned art and sculpture work. Cameron has been working on his sculpture design and a scale model which will be unveiled at Cheeseburn during one of its two open weekends.
The shortlisted entries will have their designs and scale models exhibited in the Stables Gallery at Cheeseburn. Visitors will be able to vote for their favourite entry during the two open weekends on 18 and 19, 25 and 26 May.
Cameron, 20, who is originally from Scunthorpe, said: 'It's a real honour to be shortlisted, especially as my proposal is one of just ten entries to have been chosen.'
His sculpture, Flightpaths, takes inspiration from the flight paths of migrating birds and questions how our urban and natural environment can mirror our individual behaviour and human activity. He has used shape, form and texture to create a sculpture suited to its proposed riverside location.
He said: 'I link the substantial migration of the swift to our own personal journeys throughout life. The swifts are depicted to be skimming the surface of the river at Cheeseburn, which correlates with our own personal highs and lows as we endeavour through our daily lives.
'It allows us to challenge perceptions of how we view restrictions in our world, and how we can conquer them by seeing them as hoops to jump through, in order to succeed.'
Cameron had initially considered a career in engineering in his teens, as his family had a history of working in the steel industry. But having started his college studies, he realised it wasn't for him and instead pursued his interest in fine art.
I am hoping to continue my studies to postgraduate at Teesside as the facilities here are exceptional
He was originally offered several university places elsewhere across the country, but chose to study at Teesside due to the facilities, as felt there was more available at Teesside to develop his artistic practice.
He said: 'I am hoping to continue my studies to postgraduate at Teesside as the facilities here are exceptional. I have been working with an established sculptor who has created public art in Redcar and my aim is to eventually work professionally.'
The Gillian Dickinson North East Young Sculptor of the Year was launched in 2015 to support early career artists in their work, allowing them to develop their practice and work with mentors to build their career.
Dr Michael Lent, Fine Art Programme Leader, MIMA School of Art, said: 'We are really pleased to see Cameron's hard work and creativity recognised. He has excelled in being shortlisted, as students who submit entries are usually nearing graduation and Cameron is still in the second year of his degree.'
Laura Sillars, MIMA Director, said: 'Our aim is to help nurture and develop new talent for the future as they come through MIMA School of Art and Cameron is already showing exceptional promise in having his work recognised in this way.'
Matthew Jarratt, curator and mentor at Cheeseburn said: 'We are delighted to have received a record number of applications to this year's Gillian Dickinson North East Young Sculptor competition. We present a diverse selection of proposals from ten young artists, who come from a range of backgrounds, courses and institutions across the North East.'
Find out more about Cheeseburn
---