Life through a lens
An award-winning international photographer has left his home in Canada to set up a new photography course at Teesside University and help inspire the next generation.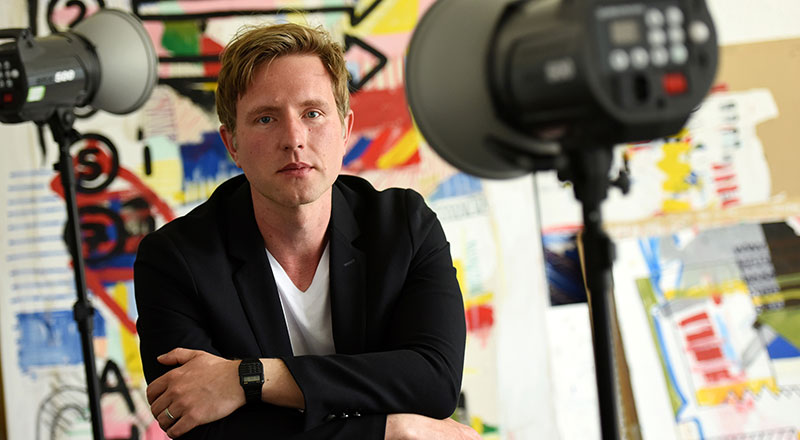 Mark Kasumovic has exhibited his work globally and previously worked at Ryerson University in Ontario, Canada – one of the world's top schools for photography.
But, with a desire to take on a new challenge, Mark, along with his wife and young baby, made the decision to move to Middlesbrough and spearhead the brand new course at Teesside University.
'I just saw this as a fantastic opportunity and the chance to shape something from the beginning and help it to grow,' explained Mark, 37.
The BA (Hons) Photography is a brand new course at Teesside University which is currently recruiting for a September start. It presents photography in a digital age and provides students with the opportunity to take part in exhibitions and workshops, focussing on a range of different disciplines, including fashion, commercial and editorial photography.
'Photography is ingrained in every single way we experience the world,' said Mark. 'Some people think there is an over-saturation of images, but the key is to be creative and find a way to document the world with imagery that is different and presents something in a new and interesting way.
'This course will allow people to be creative, push the boundaries of contemporary imagery and develop their own unique approach to photography.'
Mark's photography is concerned with contemporary landscape, science and technology. He is interested in documentary photography, getting into new places which have not been photographed before and capturing new and hidden imagery.
The changing landscape of industry and rural countryside certainly make it an interesting area to photograph
One of his most ambitious projects involved visiting the world's most significant scientific projects and spaces to document what is taking place. Other projects include 'Picture/Perfect', which uses the tourist as a backdrop to explore the explosion of digital images, 'An American Landscape', which explores meaning through the process of picture making with a camera, and 'Ideal Landscapes', which challenges the value of traditional landscape photography by turning the natural landscape into an artificially lit stage.
During his career, Mark has won the BMO Art First National Competition and received the Snap! Stars art award sponsored by the TD Canada Trust. Mark has received grants and honours from the Ontario Arts Council, Canada Council for the Arts, Culture Nova Scotia, and the Social Sciences and Humanities Research Council of Canada. Despite all of his achievements and accolades, Mark is relishing the new challenge of establishing a successful photography degree course at Teesside University.
He said: 'It is going to be a challenge but I am really looking forward to it and would certainly encourage anybody with an interest in photography, either as a hobby or as an art form, to apply.
'I didn't know too much about Middlesbrough and Teesside before I arrived but it is certainly a vibrant and energetic place. The changing landscape of industry and rural countryside certainly make it an interesting area to photograph.'
---