Scholarship helped shape Sam's future
A young engineering graduate has praised her scholarship for helping her get through university – not because of funding, but because she knew someone believed in her.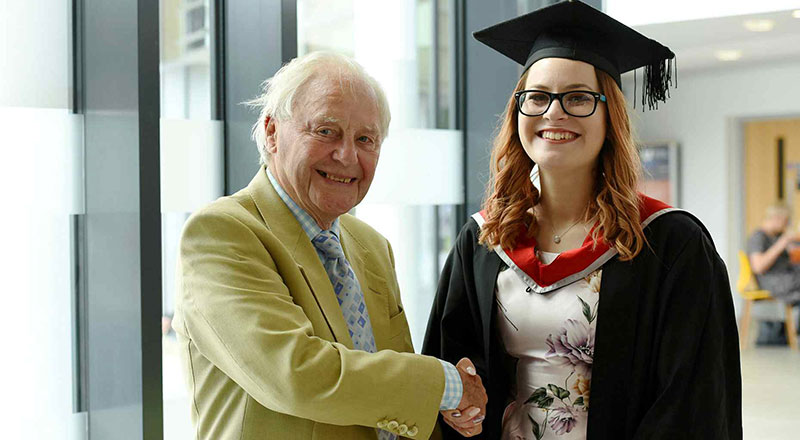 Sam Tomlinson-Wrenn, who graduated from Teesside University with BEng (Hons) Civil Engineering, was invited to apply for the Dr Ken Home scholarship when she started her studies.
Dr Home introduced the £5,000 scholarship to help support local students applying for engineering-related degree courses at the University. Sam applied to Dr Home in writing, telling him why she was so passionate about studying this subject at Teesside.
'I wrote a letter to Dr Home to explain my reasons for wanting to study civil engineering. My interest first stemmed from when my mum, Julie, studied the subject herself here. Mum graduated in 2012, and I remember reading her dissertation when I was 11 at the time and I became enthralled with civil engineering,' explained Sam.
'I thought, if mum could do it with five kids, nothing could stop me. I was really surprised when I found out I had been awarded the scholarship – I never expected to be chosen.'
Sam graduated this July and she has already secured a position at Network Rail on a two-year graduate scheme. At the end of her training, she will have a guaranteed job in the company. For Sam, while the scholarship did help financially, it was knowing someone believed in her that mattered the most.
Knowing someone believed in me helped me get through my degree.
She said: 'Dr Home's scholarship helped me finish my degree. I went through a difficult time in my second year, but knowing someone believed in me helped me get through it and ultimately complete my degree.'
As an apprentice draftsman for Dorman Long, Dr Home attended Constantine College which later became Teesside University. He is now the founder of K Home International Ltd – a multidiscipline engineering design service which successfully delivers projects across the world.
Dr Home added: 'I started life here as a very poor student in this part of Middlesbrough, but I was always passionate about engineering. I have since been very lucky in business, so I introduced this scholarship because I wanted to give something back to young people who are like I was.
'It's wonderful to be here at graduation and see not only smiling students, but their smiling parents too.'
---