Teesside welcomes new PCSO
Teesside has welcomed a new Police Community Support Officer (PCSO) dedicated to supporting the University community on campus.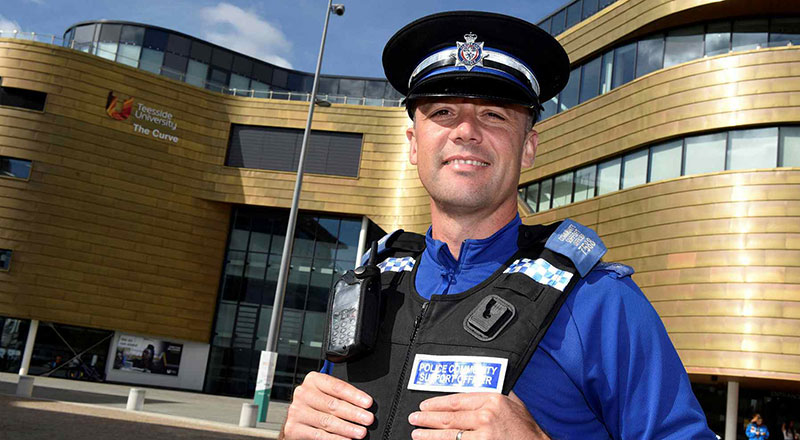 Jonny Severs, a PCSO with Cleveland Police, has recently joined the University on a full-time basis. As part of his role, he will offer drop-in sessions across the central Middlesbrough campus, offering advice and guidance on crime prevention.
Jonny, who has been in the police force for 17 years, says that he gets a great sense of satisfaction from his job. Over the coming weeks, he will be introducing himself to as many people as possible, and students and staff are encouraged to speak to Jonny if they have any questions around crime, antisocial behaviour or personal safety issues.
'I get a lot of satisfaction knowing that I am helping to keep people safe. Here on campus, I feel as though my work is really valued by both staff and students,' he said.
'Much of my work will be around student engagement. I want to get to know as many people as possible on campus so that everyone feels comfortable approaching me for a chat.'
Jonny will work closely with the University's security team, and patrol with them to help tackle any antisocial behaviour around the campus. His work will also involve problem-solving in the local area on issues that may affect students.
I get a lot of satisfaction knowing that I am helping to keep people safe.
Claire Humble, Head of Security at Teesside University, said: 'We are delighted that Jonny has joined us as our dedicated PCSO on campus. As a security team, we work hard to provide the best possible service to everyone within our community – and Jonny's presence on campus will only further enhance our service.'
Claire and Jonny are also keen to encourage students and staff to use SafeZone – a free app that connects users to the security team if they ever need first-aid or urgent help on campus.
Claire added: 'SafeZone is a fantastic app – it enables our security team to get to where they are needed more quickly. Since it was introduced, over 2,000 people have downloaded the app and we would encourage everyone on campus to do so.'
---