Thirteen Academy scholars start their studies at Teesside
The first Thirteen Academy scholars are laying the foundations for their career progression as they start their studies at Teesside University.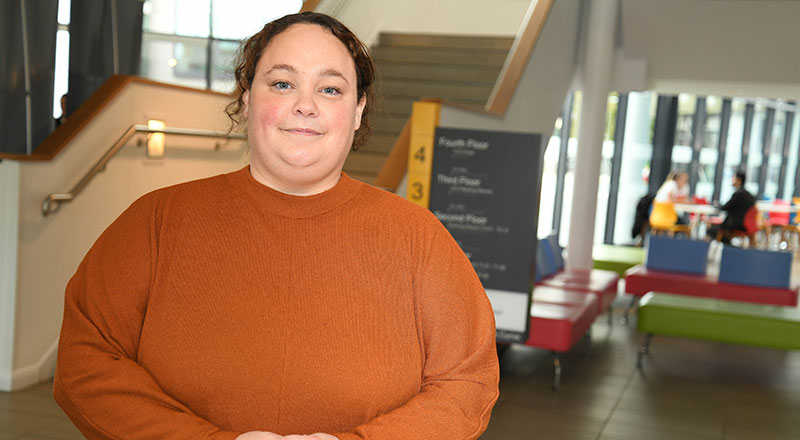 Housing company Thirteen launched a scheme earlier this year with Teesside University to support residents with aspirations to study.
Set up in partnership with the University, Thirteen Academy is giving Thirteen customers an opportunity to apply for a bursary to cover the cost of course fees, with several scholarships available.
The scheme aims to support those who might not otherwise consider applying to university, to help them study towards a degree. Applicants can opt for a range of courses including health professions, social work, education and business.
Eight scholars are now starting their studies on degree programmes at Teesside University. Among them is single mum-of-two Sarah Whittaker, 32, of Stainton, who has already immersed herself in the first few weeks of the BA (Hons) Human Resource Management.
She said: 'I'm loving it. I am a big geek when it comes to learning and I am loving the Library as it's such a relaxing environment, as well as a brilliant learning resource.
'I previously worked in human resources and in a training and teaching environment, so this degree really appealed to me as that is the type role I am aiming to be in at the end of it.'
Sarah added: 'It is amazing opportunity. My financial situation made it difficult for me to continue in education, but this has taken away that financial burden. I found the application process to be really supportive.
'As a mum, I have already honed my organisational skills, so I'm drawing on that to manage my time. You never know what you can achieve and are capable of until you try.'
It is amazing opportunity
A 15-strong panel of Thirteen's involved customers were part of the selection process. Panel member Ann Carter said: 'We were very impressed with the candidates when they came in for interview and it has given us great pleasure to see the scholars starting a degree.'
Ian Wardle, Chief Executive of Thirteen, said: 'Thirteen Academy is a fantastic opportunity for those who live in a Thirteen home and are on a low-income to study for a degree and land their dream job.
'These students are a perfect example of the Thirteen Academy in action and it is hugely rewarding to see them on their way to achieving their aspirations. I'd like to wish them all every success at university and in their future careers.
'At Thirteen, we are wholly committed, not just to providing high quality homes for people to live in, but to supporting our customers to reach their full potential.'
Pro Vice-Chancellor (Enterprise and Business Engagement) Professor Jane Turner OBE DL said: 'We are delighted to be working in partnership with Thirteen to provide additional support and study opportunities to its residents, with our first scholars now embarking on their studies.
'Teesside is an inclusive university, proud to be rooted in the community and committed to widening participation, providing access to higher education to people from diverse backgrounds.'
---