Designs inspired by student journeys given permanent home
A graphic design student can now see her artwork on permanent display in Teesside University's latest development after impressing judges on a live project.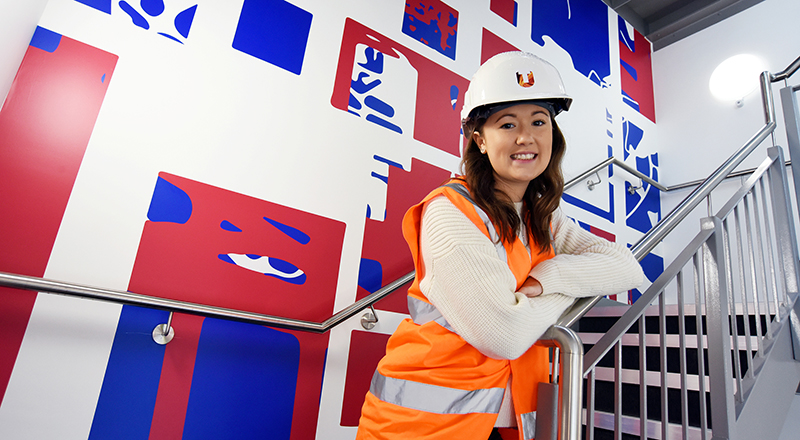 Graphics and illustrations created by Emma Woodward have been installed at the new Cornell Quarter student accommodation complex, which welcomed its first students this month.
Emma, 22 from Darlington, completed the BA (Hons) Graphic Design and Illustration at Teesside University's MIMA School of Art & Design this summer and her designs now adorn the stairwells in the new accommodation complex following a brief to produce environmental graphics.
The £21.4m Cornell Quarter project is the latest development in Teesside University's £300m campus Masterplan. Wates Construction began work on the development in April 2019 and were able to complete in time for the new academic year, despite the additional challenges posed by the impact of Coronavirus.
Emma said: 'The graphic design students were invited to work on a live brief given to us by the University. The brief was to produce environmental graphics for the stairwells of the Cornell Quarter.
'My designs took inspiration from the North East of England and how students commute to university. Many students are from the local area and travel via bus, train or car, including myself travelling by train, which was my starting point for the designs.'
My designs took inspiration from the North East of England and how students commute to university
Emma used maps of the university campus and the Teesside region, along with photographs she had taken, to create the compositions.
She said: 'The photos I used included images of viewpoints looking up, reminding students to keep their head up and to think positively, and also images of solid structures to provide connotations of strength and support, which students need when at university.
'I feel proud and honoured to have my work displayed, hopefully it will inspire other creatives.'
Emma, who hopes to pursue a career as a graphic designer, chose Teesside largely due to the course. She said: 'When I was looking at different universities, Teesside's graphic design course caught my attention.
'I've always been a creative person and studied graphic design at A-level, so wanted to continue my studies at university.'
Jill Thompson, Deputy Director Estates, in the University's Campus Services, said: 'The design brief given to students provided a fantastic opportunity to work on a live project and enable them to test their creativity. We were impressed with Emma's designs and delighted that she has been able to take up the opportunity to work with professionals to bring them to life.'
---