Student insight helps inform Government housing plans
A trio of Teesside University students and graduates have been given the opportunity to directly influence Government policy after being invited to take part in a consultation on proposed reforms to the current planning system in England.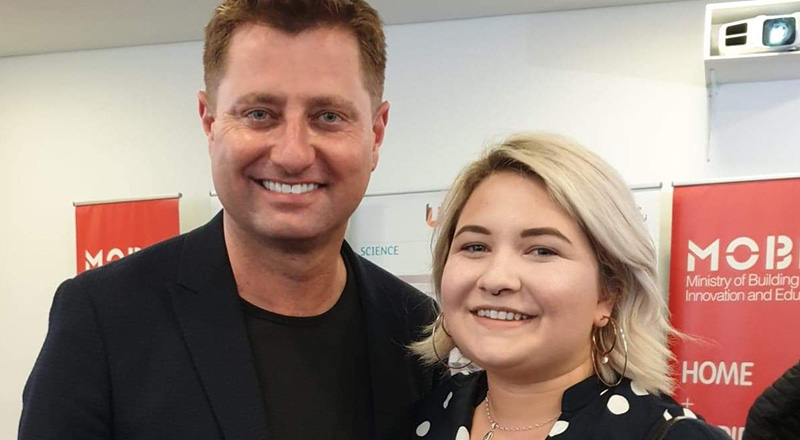 Louise Ellis, Karen Taggart and Sophie Whitaker, from the University's MIMA School of Art & Design, were among just 15 young people asked to attend a round table discussion with Housing Minister Christopher Pincher earlier this week.
They were able to put forward their opinions on matters including the affordability of housing, sustainability, modern construction methods and the importance of social housing.
The Government is currently seeking views on a package of proposals for the reform of the planning system in England, including streamlining and modernising the planning process and improving outcomes on design and sustainability.
Teesside University was asked to put forward participants to speak with the Housing Minister as it is one of the institutions which works directly with MOBIE (Ministry of Building Innovation and Education) to offer a portfolio of accredited programmes.
MOBIE, founded by architect and television presenter George Clarke, is an educational charity which is spearheading a fundamental change to the building industry.
Karen Taggart, 25, from Guisborough, recently graduated from the MSc Advanced Home Futures, one of Teesside University's MOBIE courses, and was delighted to be able to contribute to the Government consultation.
'I feel really privileged to have taken part - it was great to be able to hear everybody's views and to provide a voice for young people,' explained Karen.
'I have a passion for future housing, construction and sustainability, which is why I decided to study this course. Ultimately, I want to help people live happily, healthily and comfortably in their homes.
'It was very rewarding to have the opportunity to contribute my knowledge and thoughts and I think it is really positive that the Government is reaching out and asking young people their views to help shape future planning reforms.'
It is fantastic to have our students and graduates involved in such an important consultation and to know that their views will help to shape future Government policy.
Fellow MSc Advanced Home Futures graduate Louise Ellis, 29, from Cramlington, added: 'I feel very strongly about sustainability and introducing modern methods into construction.
'It felt incredibly rewarding knowing that I could use my skills and knowledge to contribute directly to the consultation. It was a great opportunity that I fully enjoyed and hopefully they will include young people more often in these things.'
Sophie Whitaker, 23, from Middlesbrough, is also studying MSc Advanced Home Futures at Teesside and has always been passionate about architecture and design.
She feels the current planning system is an outdated, overly complicated and lengthy process and is pleased that young people were able to put their views across on the future of the industry.
Sophie said: 'It feels very promising that the Government opened up the conversation about the future of our built environment and listened to a younger generation about our wants and needs regarding the direction of our industry.
'I hope this sets us on track to building better, more affordable and greener homes with more modern methods of construction.'
Richard Sober, Principal Lecturer in the University's MIMA School of Art & Design, said: 'We have an outstanding reputation in this subject area and have worked alongside MOBIE for a number of years to deliver a suite of programmes which provide young people with a platform to make a significant impact in the industry.
'It is fantastic to have our students and graduates involved in such an important consultation and to know that their views will help to shape future Government policy.'
---
Course details
---