Musician and film-maker team up to celebrate regional roots
An up-and-coming musician who is attracting national attention is celebrating his North-Eastern roots with help from his talented friend and Teesside University student.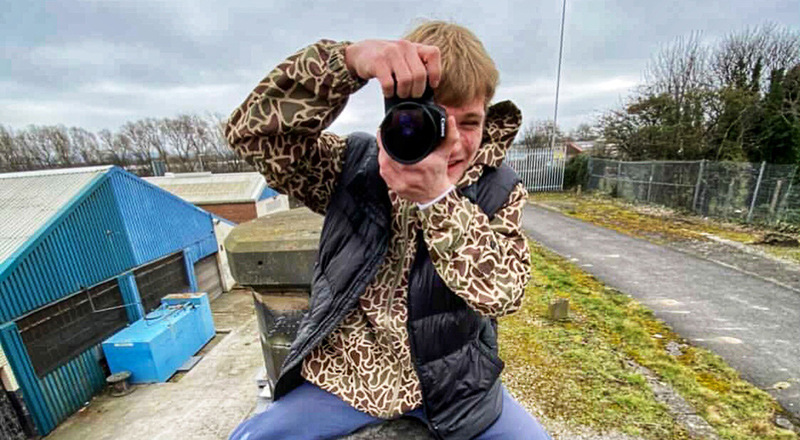 Luke Royalty, who has captured the interest of the national music press, turned to his lifelong friend Edward Harper to be the creative force behind the video for his latest release I Do, which is set in Darlington.
Edward, who is completing the foundation year of the BA (Hons) Film and Television Production degree at Teesside University, said: "We grew up together and are lifelong friends.
"Luke asked me to film the music video as he wanted the production to involve North-East artists. The track producer is also from Darlington, so it seemed fitting to have the visual aspects encompass his northern heritage.
"This is the first music video I have produced and to have it viewed nationally is an honour and something I never expected, especially for my first music video.
"Luke is gaining momentum to become a well-established artist, which is well deserved through hard work and talent."
Edward, 21, from Darlington added: "The idea behind the music video came from trying to deliver a raw sense of living in a northern market town. Darlington is a big part of his story, which we both wanted to pay homage to.
"We wanted it to feel as if Luke was having a conversation with the viewer; that's why the first two minutes is one take.
"The outro was almost a testament to Luke breaking the cycle and the realisation he needs to move on, whether it be from his home town or jobs he doesn't want to do and to make something of his music career, which I fully believe he will."
The course allows me to work with like-minded creatives
Commenting on his studies, Edward added: "The course allows me to work with like-minded creatives. Before getting into filming, I did an apprenticeship in fabrication and welding. To experiment with ideas is so fulfilling and it's almost a 100 percent u-turn from where my life was two years ago."
He added: "The day before the video release, I was a bit nervous about how people would interpret the video, but I've been pleasantly surprised and look forward to my next project.
"The one rule I have when making a video is that I like it to be authentic and the project to be a collaborative experience. Instead of me just holding a camera, I want to understand what the subject is feeling or trying to say, whether it be a skate video or a music video, the subject's story is key to me." Luke said: "It was easy to bring the message of the song to life because we have both experienced similar things whilst growing up here. My northern heritage is something that's so important to me and I'm proud of where I come from."
There is a feature on Luke Royalty which showcases the I Do video in the latest edition of Clash magazine
---