Support for sports students from international netball duo
A professional netball duo has been recruited to provide top-class coaching for Teesside University's netball team and support for students excelling in sport.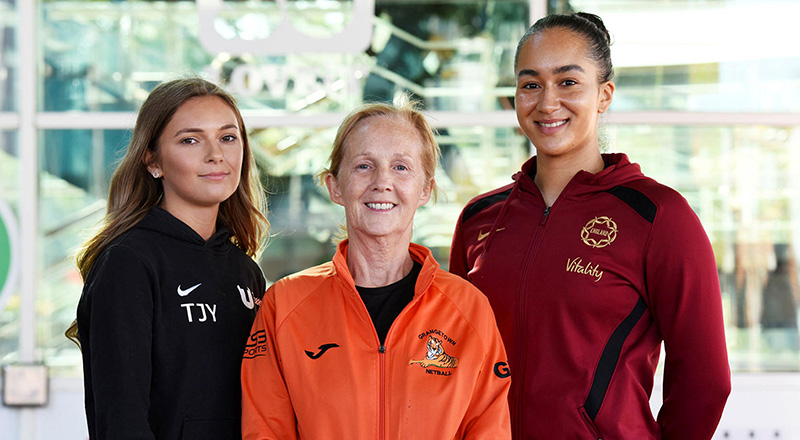 Tuaine Keenan and Brie Grierson both play for Leeds Rhinos in the UK's top-level elite netball league competition Netball Superleague, which includes teams from across England, Wales and Scotland.
Tuaine, who is from New Zealand, and Brie, from Leeds, will support the University's Teesside Sport colleagues and Students' Union in coaching the University's netball team, which plays in BUCS (British Universities & Colleges Sport) competitions.
They both already have local links through playing for Grangetown Netball, which has teams of all age groups competing in various leagues, including the England Netball Premier League.
Both will also coach netball teams at Billingham's Bede Sixth Form College as part of a three-way partnership, helping to establish an education pathway to top class netball coaching and support. The college's Institute for Sport & Education (ISE) already has a number of successful sporting academies, including men and women's football, rugby and basketball.
Tuaine, a former New Zealand netball international, said: "I'm very excited to be involved with Teesside University and working with the student athletes within the netball programme.
"Having played and coached in the region for many years, I am excited about the opportunity to foster and encourage the talent of all netball athletes at Teesside University and create a competitive environment where they can all thrive."
Brie, who is currently involved with the England team, said: "I'm really excited about working with Teesside University and Bede Sixth Form College. The hope is to create a pathway for girls to enjoy and play their netball in the region where they are from. I know for myself it was great to not have to leave the region to enjoy competitive netball."
The aim of the partnership is to create a pathway for talented netballers to progress to the highest level in their sport whilst also excelling in further and higher education.
It's great to have these links with the University. It will help to keep talented netball teams competing for teams locally and help to encourage more participation and interest in the sport.
There will also be placement opportunities for the University's sport and exercise science students to support Grangetown Netball players' physical development through sports therapy and strength and conditioning support.
Professor Mark Simpson, the University's Pro Vice-Chancellor (Learning and Teaching), said: "We're delighted to have committed to a netball programme with Bede Sixth Form and Grangetown Netball. This is a unique opportunity for our students to be coached by elite netball players and create a sport and education pathway to higher education."
Sports scientist Dr Matthew Wright, who works alongside the Teesside Sport sports development team, said: "It's really exciting news that Tuaine and Brie will be working with us.
"Establishing these links will not only help to strengthen the university netball's team progress in the BUCS leagues, it will also help promising netball players explore opportunities to play for Grangetown and help to retain netball talent in the region through creation of an education pathway."
Ben Robinson, Bede Sixth Form College Principal, said: "This is fantastic for netball in the region. Through transformational partnership working with Teesside University, the support of England Netball and Grangetown Netball Club we can now provide another high performing sports academy at the college within the Institute of Sport and Education (ISE). Players will get the highest standard of athlete support and development with a dual career focus throughout. Our academy programmes are about providing real pathways of development and this collaboration does just that."
Gel Williams, Head Coach, Grangetown Netball, said: "It's great to have these links with the University. It will help to keep talented netball teams competing for teams locally and help to encourage more participation and interest in the sport."
---