Teesside University hosts the finishing line for Teesside's first Legal Walk
Teesside University applauded sponsored teams as they stepped over the finishing line of Teesside's first Legal Walk.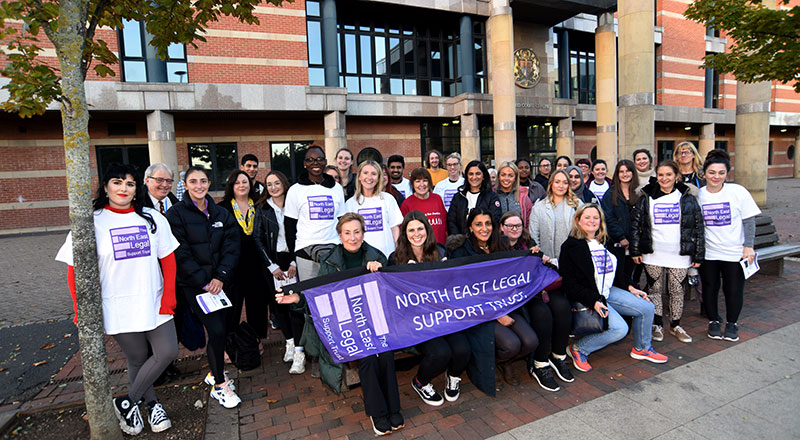 Legal Walks see legal professionals and justice advocates walking together to raise money for the Access to Justice Foundation which funds frontline legal advice services throughout the UK.
The Teesside walk took place earlier this month starting from the Teesside Combined Court Centre and finished at the University's Campus Heart.
Fifty members of the local legal community, students and members of the Department of Law and Policing, including the Director of Clinical Legal Education, Hannah Sellers, participated in the walk.
The Teesside Walk was organised by Parissa Najah, a Middlesbrough-born barrister at Trinity Chambers, and the guest of honour was Her Honour Judge Gillian Matthews QC, a Teesside University Honorary Graduate.
Emma Teare, Senior Lecturer in Law said, 'We are really pleased to have welcomed the Legal Walk to Teesside University campus and help raise funds for vital legal services.
We are delighted to see the Legal Walks come to Teesside and we hope to see it become a regular event.
'As a University, through initiatives such as our Law Clinic, we are working hard to try and make justice accessible to all.
'We are delighted to see the Legal Walks come to Teesside and we hope to see it become a regular event.'
A networking and drinks reception hosted by the Dean of the School of Social Sciences, Humanities and Law, Professor Paul Crawshaw, and Angela King, Head of Department (Law and Policing), took place afterwards.
The walks help to raise money for free legal advice services in the UK. These are increasingly in demand following the pandemic, as a result of an unprecedented number of inquiries from clients in desperate need of advice in areas such as debt, welfare, immigration, family, housing and employment law. Without these free services, thousands of people who are unable to afford the services of a lawyer will be unable to access the help and support they need.
---