Student views
Beverley Marwood
Beverley returned to her hometown to complete an MSc and start a rewarding career.
MSc Physiotherapy
'I gained a great deal of knowledge and experience from my course, particularly from the placements working in the NHS.'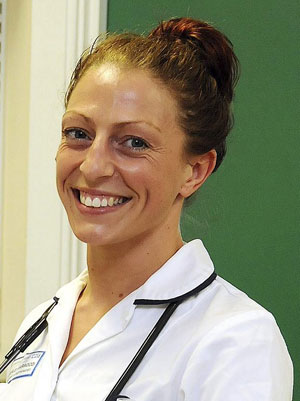 What brought you to study at Teesside University?
Teesside is my local university, but I completed a first degree at another university because I wanted the experience of living away from home. When it came to my MSc, I chose to study at Teesside, not only for convenience of it being my local university, but because of its impeccable reputation for producing successful Physiotherapy graduates.
What was the course like?
I gained a great deal of knowledge and experience from my course, particularly from the placements spent working in the NHS, learning first-hand how to apply my skills, build my knowledge and really treat patients.

In addition to my physiotherapy course, my time spent within sports clubs, particularly the women's rugby team, forged relationships and ingrained life skills I continue to use every day to enhance my abilities and assist others in doing the same. Spending long hours in the library was balanced by numerous hours in the gym and out on the cold, muddy pitches. Working to deadlines and being under pressure could be compared to Monday night training and 80 minutes on a Wednesday and Sunday alongside fellow students and friends.

What are you doing now?
I work as a physiotherapist for North Tees and Hartlepool NHS Trust, where I have completed a number of rotations – in musculoskeletal services, medical and orthopaedic physiotherapy, and rehabilitation. I have also worked for local sports clubs – rugby and American football – maintaining and expanding my skills.

Alongside my career I am also pursuing sports ambitions, mainly American football, in which I have achieved an unbelievable amount in a very short space of time. In less than a year I started a new sport, represented and captained my country in the first ever international, and started up a new local team, Teesside Steelers, in association with the GB national development scheme.