Student views
Antarang Kumar
Antarang came from India to study here.
MSc Mechanical Engineering
My course has been an overall experience of academic, extracurricular and so many other things. The academic side was quite challenging for me initially. I had to get used to new software and designs and I was not used to writing reports or essays. structures. It was a very good learning experience.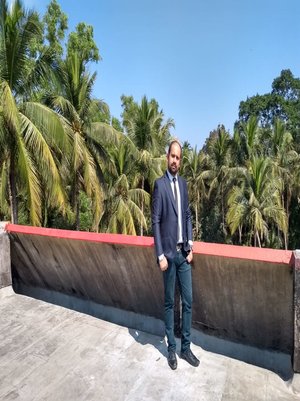 What brought you to study at Teesside University?
After completing my bachelor degree at home in India I wanted to continue my studies in mechanical engineering in the UK. I have always been interested in studying abroad and the UK was my first choice. I shortlisted several universities and looked at all the modules and realised that the master's degree at Teesside would build on my undergraduate degree.

Were you part of any clubs, societies or volunteering programmes during your studies?
I really enjoyed extracurricular activities. I was a student ambassador and an international student buddy, a course representative and student panel member for a two separate academic Schools, and participated in the University's Summer School as an international student ambassador. I learnt a lot through interacting with people and made lots of friends, not only in engineering but in other schools and departments. I think this also helped me academically.

What did you think about the area around Teesside?
I visited the surrounding areas, including Wensleydale, Whitby, Darlington and Guisborough. All these places are unique in their own way, with such wonderful scenic beauty. I also represented Teesside University Staff Cricket team so I visited a range of places to play cricket matches.
What have you done since graduating and what are you doing now?
I completed a postgraduate course in international business from the London School of Commerce, and currently work as a business development executive at Haryana Knowledge Corporation Ltd.

Did your time at Teesside help you to achieve your goals?
I am very grateful to the University for developing me as a confident individual. There is a wonderful careers team, excellent academic curriculum and support, opportunities to interact with; classmates and friends from different nationalities and backgrounds and continuous improvement of presentation skills. All this has helped me to develop as a positive, calm, cool and impassive professional with a go-getter attitude.

Would you recommend Teesside University?
Absolutely. As a message to international students, I would say that if you want to improve your experience, your studies and extracurricular life then Teesside is the best place to be.