Student views
Natasha Patel
Natasha has gone on from her course to two contrasting part-time jobs.
Doctorate in Clinical Psychology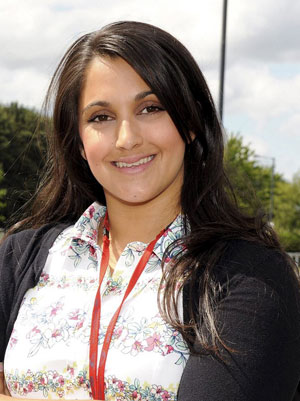 What brought you to study at Teesside University?
After graduating with BSc (Hons) Psychology with Biology from Manchester Metropolitan University, I worked as an Assistant Psychologist in various settings for four years, working with qualified Clinical Psychologists. I loved the work, but what I was able to do with clients was limited, as I was not qualified. In order to progress in my career I decided to study the Doctorate in Clinical Psychology to become a qualified Psychologist.

I live in the North East, so Teesside was always on the list of courses I applied for. I chose Teesside as the tutors all appeared very friendly and knowledgeable during the interview process. I also liked the focus on Personal and Professional Development (one module per year). Not many other courses provide this level of PPD.

What was the course like?
The training was varied and allowed us to develop in our own individual ways. We were able to decide what type of Psychologist we would want to be and we were given the opportunity to gain knowledge and skills in a number of areas. All of the tutors on the course were extremely knowledgeable, enthusiastic and supportive in the learning process.

I particularly enjoyed the Personal and Professional Development module as I was able to develop as a reflective practitioner. I also enjoyed the clinical placements. We undertook four core placements across the life span in the first two years. In the final year we were able to choose two placements. The choice and variety of placements on offer was huge, and I was able to focus on what I was interested in and shape my training to incorporate my interests.

I was in a cohort with 13 other trainees and we became very close over the three years. We organised our own social events after teaching days.

What are you doing now?
I work half of the week in Lincolnshire as a clinical lead for a new private company which provides residential homes and schools for children who have been sexually exploited. I manage a team of therapists and assistant psychologists. As this is a new organisation I have been involved in developing the organisation's clinical services. My role includes management and leadership and has been challenging as a newly qualified clinical psychologist. Most challenging has been leading the clinical team through the highs and lows a new developing organisation can face. I enjoy this role more than I anticipated, and although it has been a steep learning curve, my skills and knowledge have developed rapidly and I feel I am constantly learning.

I work the second half of the week in Durham in an Adult Learning Disabilities service in the NHS. This role is primarily working directly and indirectly with clients with learning disabilities who require psychology input. The challenges of this role are working therapeutically with clients who present very complex needs with the added complexity of difficulties with communication and understanding. However, I enjoy being able to work within a multidisciplinary team with a number of other professionals who have valuable knowledge and skills. It provides a great forum for inter-professional learning.