Student views
Louis Cunningham
Teesside University elite athlete Louis benefited from bespoke strength and conditioning coaching during his studies.
BSc (Hons) Sport and Exercise Science (Applied Sport Science) and MSc Strength and Conditioning*
'I chose Teesside University as I knew it had great facilities.'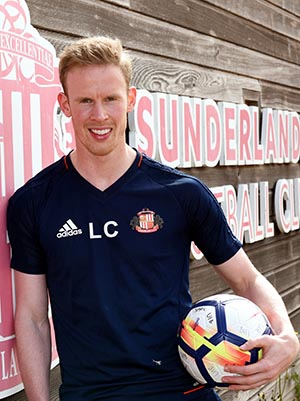 What's your current profession?
I'm a full-time sports scientist and strength and conditioning coach for the male academies at Sunderland Association Football Club (AFC). I'm also lead sport scientist for the foundation phase (under 9-11) and the youth phase (under 12-16) at the club.

My role involves delivering pitch based physical conditioning, strength and conditioning gym training, training monitoring (wellness and training load), nutrition workshops, match day warm-ups and preparation, programme prescription, periodisation and physical curriculum.

I also provide strength and conditioning, physiological and biomechanical testing, and training monitoring for the first team seniors, and for under 21s academy players.

Alongside my full-time role, I am lead strength and conditioning coach for Scottish Rugby supporting elite, age-group and divisional players across the UK.

Before my current position I worked full-time at Gateshead College as a sports and conditioning coach, sport science lecturer, NVQ teacher and boxing coach. During this time I held part-time roles at Teesside Centre of Excellence, Darlington Mowden Park RFC, Sunderland AFC Ladies Under 21s, Dyke House Sports & Technology College and Fighting Chance Promotions as a sports scientist/strength and conditioning coach.

How did your time at Teesside University prepare you for your current career?
I found the teaching at Teesside University high quality, and my study was coordinated brilliantly through the way the different modules were set out and progressed. I used Teesside University's careers service to get me into a number of volunteering positions and did a lot of volunteering throughout my undergraduate and postgraduate studies. As part of my volunteering I worked across a number of different sports including boxing, rugby, football, swimming, table tennis, and athletics. I supported male and female athletes of all ages, including disabled athletes.

I benefited further from Teesside University's careers service through working in a gym – my position gave me an income at the same time as providing valuable work experience. My volunteering and work experience meant I wasn't limited when it came to applying and interviewing for work after graduating.

The combination of my undergraduate and postgraduate courses and my unpaid and paid work experience really helped me to develop my education and philosophy in the field of sport science. I owe a lot to Teesside University sports development officer for elite sport Matthew Wright, Teesside University senior lecturer Nic Berger, and Teesside University sport and exercise technician Jonny Taylor. The staff really helped with my physiological training and testing, allowing me to make the best of the fantastic facilities at Teesside University throughout my studies.

What are your career ambitions for the future?
Professionally, my aim is to create improvements in the medal tables for Team GB in major forthcoming competitions. I'm also keen to create opportunities for sports participation in the younger generation, promoting a healthier and more active population. I'm enjoying the fact that getting the best out of younger athletes is a key part of my current job. I'd like to work my way up the chain in sport, becoming a lead sports scientist/strength and conditioning coach for the senior team at Sunderland AFC, or for another form of high performance sport such as boxing, athletics or rugby. Further into the future I would like to own my own business – a centre of excellence or institute of sport designed to support multiple sports and many athletes.
What do you think about Teesside University? How did you decide to study here?
I feel lucky that I knew about Teesside University through growing up in the area – it's great to have a good university on your doorstep. I was in the youth team for England Boxing when I was deciding where to study. I chose Teesside University as I knew it had great facilities and would allow me to balance my boxing training and studying at the same time as remaining close to home.
What was the best part about studying at Teesside University for you?
I was part of the Elite Athlete Scheme during my studies (2009-14). The scheme gave me access to top-quality holistic sport science support which helped me a lot with my boxing career and helped me to progress to represent my country at senior level, compete on TV and win many titles. I was able to represent Teesside University in the British Universities & Colleges Sport (BUCS) Boxing Championships – a title I won. This was great for my development.

I found the facilities as a student and athlete brilliant at Teesside University. The lab facilities in the Olympia and the strength and conditioning lab in Centuria South really helped my development as a sport scientist practitioner and as an athlete.

The teaching staff at Teesside University were brilliant too. My teachers presented so many opportunities to help my education and were very supportive in many ways. I'm from Teesside so it really helped me financially to continue living with my parents during my studies.

If you're keen to work hard, the facilities and teaching staff at Teesside University will really aid your development in the sports science field, presenting so many opportunities for the future.


*We now offer MSc Sport and Exercise.