Student views
Linda Bearpark
Linda Bearpark is a segment manager at Promat UK Ltd.
Master of Business Administration (MBA)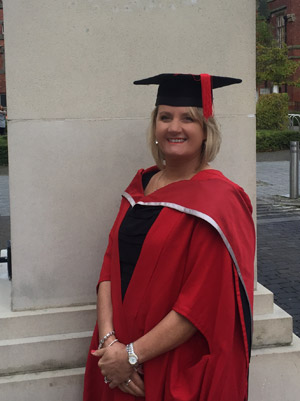 Why an MBA at Teesside?
Having started the MBA several years ago, unfortunately due to work commitments I was unable to complete the final year of the programme until being given the opportunity to complete it in 2015. Having already completed the earlier modules, I found this learning had contributed to my better understanding of business practices, strategies and had developed my communication and leadership skills. I was therefore eager to complete the course, to further develop my understanding of business practices and graduate.

Living in Darlington, I initially applied to Teesside University due to its close proximity to my home and the convenient study base offered. This then became more attractive when I was advised of the satellite campus in Darlington where I could undertake my studies. On carrying out my initial research it was clear that the University has an outstanding reputation and was also recommended by several friends who recounted their first class learning experiences. To me, it was the perfect choice.
How have you found the course?
As a 50 year old mature student I was initially a little concerned that the final year study, including the dissertation, would be a daunting task to undertake. However, with the excellent support both from lecturers and fellow students, my confidence and knowledge soon began to grow and I began to thrive once again in a study environment.

I found the course content to be very interesting and in most cases it was easy to relate to my working environment. The lecturers had obviously put a lot of thought into the module learning and made each lesson easy to follow and understand.

Even though I purchased several books to support my study I still made use of the University Library and would highly recommend this to others. The system for borrowing books was so easy to use and what was even more helpful was that the loan period could be updated online.

The electronic blackboard system gave access to learning material, assessment results, emails and electronic submission of assignments which was very convenient to me as I spend a great deal of my time travelling due to work commitments.
Would you recommend the course to others?
I have absolutely no doubt that I would recommend this course and the university to others. I have used my learning already within my work environment. My dissertation was based on segmentation and key account management; I have since become a segment manager and have passed on my learning to several colleagues within the organisation.

The MBA helped me to gain an understanding of complex business strategies and challenges and gave me confidence to communicate effectively to stakeholders at all levels. It allowed me to further develop my leadership, analytical skills and provide an enhanced understanding of the business practices and disciplines within the fast changing global economy.