Student views
Alex Robson
Alex is working towards becoming a fully chartered health psychologist practitioner.
MSc Health Psychology and Clinical Skills
'My course allows me to delve deeper into specific health behaviours. I love the content and the support provided is incredible. University has changed my life.'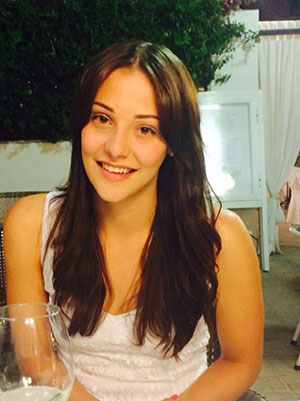 What brought you to study at Teesside University?
The warm, friendly atmosphere and the choice of courses available in my area of interest.
What is your course like?
My undergraduate degree was in psychology and it gave me a good overview, but my postgraduate course allows me to delve deeper into areas of interest, such as specific health behaviours. I love the content and the support provided is incredible. As there are only 21 people in my cohort, my course is small, friendly and supportive. I enjoy taking part in informal discussions and learning from others' experiences in different specialised areas.
What's been your favourite module and why?
I've loved them all but I especially liked Clinical Skills as it provided insight into real-world clinical practice. This is a special attribute of the course as practical skills are extremely important. And it gave me a taster of what clinical-based work would involve. I also really enjoyed studying advanced level statistics and feeling confident at applying this knowledge professionally.
Did you gain work experience while studying?
During the undergraduate course I took part in the student as researcher scheme and was co-author on the final published research paper, which I presented at a conference in Barcelona. I've also worked as a student ambassador throughout my studies – it's been the most amazing experience. It helped me develop my presentation skills as I've delivered talks to groups of up to 100 prospective students. Through this work I also visited the Houses of Parliament for a meeting with the Parliamentary Space Committee and visited the European Space Centre in Cologne.
Have you had any financial support from the University?
I was awarded a full scholarship for my postgraduate study, worth £10,000.
Have you had any help from any of the University's support services?
I was diagnosed with dyslexia in my second year and I received amazing support. My lecturers were very patient and understanding and I had one-to-one tuition once a week for two years. This extra support fully unlocked my potential to succeed. I can't thank these people enough – their support completely motivated me and now I am ready to take on the world.
What are your plans and ambitions?
I'm progressing to stage two doctorate level to become a fully chartered health psychologist practitioner. I'm aiming to increase health and wellbeing in deprived areas and marginalised populations and increase intakes for cancer screening. One day, I would like to have my own wellness centre practice.
Has your time at Teesside University helped you to achieve or get closer to your goals?
The support has been paramount to my success and I thank Teesside University wholeheartedly for believing in me. University changed my life.