Student views
Andrew Richardson
Andrew studied his undergraduate degree at Teesside and enjoyed it so much he decided to stay and do his master's degree.
MSc Sport and Exercise
'I would recommend Teesside, not only for the courses but for the experience as a whole.'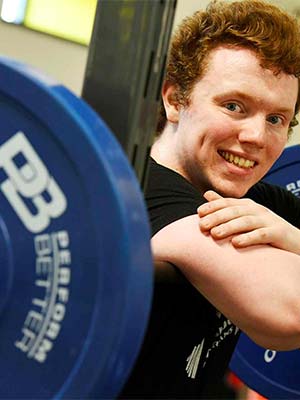 What brought you to study your master's at Teesside?
I studied my undergraduate degree in applied sport science here, and I enjoyed it so much I decided to stay and do my master's degree. I want to be a lecturer, so having a master's gives me an advantage. It has also helped expand my network and scientific knowledge in the field of sport.
What do you like about your course?
I really enjoy the Student Independent Learning module, where I'm looking at how social media has a negative influence on body image. That's the best thing about my course – the independence. There is so much freedom to study what you want for your own academic learning. I've also enjoyed the dissertation module because I have so much time to create the best piece of work I can in an area I'm passionate about.
What do you think about the campus and accommodation?
There has been huge modernisation and improvements to the campus. It's always nice to see the University reinvesting in itself to help improve the student experience. I stayed in Parkside Halls during my undergraduate course and in student managed housing on my postgraduate course – both were very pleasant. Rent is very affordable compared to most cities in the UK.
What has your social life been like?
The social side of Middlesbrough is one of the best I've experienced in the UK and Ireland. Everyone is friendly and there are great bars and clubs. There is a good range of restaurants in Middlesbrough with shopping centres in and around the town centre. I also founded and was the chairperson for the University's powerlifting club, Teesside Barbarians. Through this I've made lifelong friends and gained invaluable experience.
Have you undertaken any research or part-time teaching during your studies?
I did two guest lectures for the sports science department, presenting strength training, nutrition, and careers advice. I prepared my own material for each of the lectures and taught different cohorts of students, including sports science, sports therapy and sports coaching. I've also lectured at Warwick University teaching strength training in a classroom and in the gym. I've gained great lecturing experience in a formal academic setting.
Would you recommend Teesside and your course? What's next?
I would recommend Teesside, not only for the courses but for the experience as a whole. The University, town and surrounding areas have so much to offer students. I've also had some great support – I received the Student Experience Fund bursary to help me represent my country at the World Powerlifting Championships and World University Championships. My course has boosted my employability and the skills I've gained can be applied to the career I want to do. When I finish my course I will apply for a Postgraduate Certificate in Teaching and Education or a PhD, hopefully at Teesside.