Student views
Liam Redden
Liam started out as a healthcare assistant, but is now getting closer to his goal of becoming a district nurse.
PgDip Specialist Practice in District Nursing
'I chose Teesside for my PgDip as I've always had good experiences of learning and received invaluable support from staff.'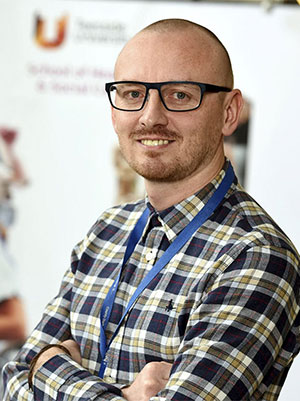 What brought you to study at Teesside University?
I had studied several previous qualifications at Teesside University so I chose here for my PgDip as I've always had good experiences of learning and received invaluable support from staff. I originally completed an NVQ Level 3 in health and social care, and then progressed to a foundation degree in healthcare practice. I was later seconded by my employer to complete my nurse training and gained BSc (Hons) Nursing Studies (Adult) in July 2013. I'm now working as a community staff nurse and I've almost completed my PgDip.
What do you think about the campus and the services offered?
The campus offers state-of-the-art facilities and all staff are friendly and helpful. The library and academic staff are an invaluable source of support and are very approachable if you're experiencing problems. Plus the surrounding area is good and offers places to eat, socialise and shop.
What have you enjoyed about this course?
I have enjoyed all modules within the course but my favourite modules have been Advancing Patient Safety and Community Prescribing. These modules have made me question and ensure that my clinical practice is supported with evidence-based research while ensuring patient safety.
What does your work involve?
Community nursing is a diverse role where I look after a wide variety of patients in their homes. We provide vital nursing care which includes end of life care, wound care, pressure area care, insulin/medication administration, IV antibiotic administration, and providing advice and support to patients, families and their carers. The role is very challenging and you need the ability to work under pressure utilising community resources in the most effective way to promote positive outcomes for patients. However, the reward of looking after a patient within their home or preferred place of care, far outweighs the challenges faced.
Has your time at Teesside helped you to reach or get closer to your goals? What's next?
Before university, I was a healthcare assistant without any formal qualifications. However, since studying at Teesside I have acquired a first-class honours degree in nursing (adult) and progressed in my career to be a community staff nurse. I'm now hoping that this specialist qualification will help me to become a district nurse and lead a nursing team in the community setting.
Would you recommend Teesside University?
I would definitely recommend Teesside University. The courses and modules are designed to improve knowledge and skills that can be applied in the clinical setting. There is always opportunity to discuss areas for individual development with practice teachers and academic staff, which is really helpful.