Student views
Katie Cartwright
Katie's passion for forensic psychology led to her continuing her studies at Teesside.
MSc Forensic Psychology
Teesside University helps you develop and become a strong, independent, confident, and experienced hard worker.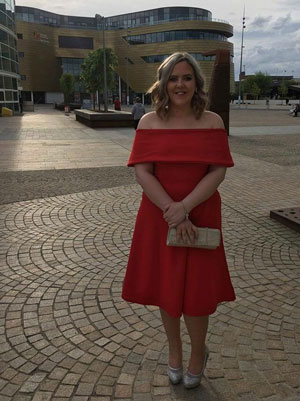 What made you decide to study on a higher education course?
I completed the BSc (Hons) Forensic Psychology with 1st Class Honours at Teesside and felt it would be ideal to continue education while I was in the mind set.
I had built some outstanding working relationships with students, lecturers, staff, and the overall University.

What have been your favourite modules?
Assessments and Interventions taught me how to write risk assessments and training plans – two integral parts in the British Psychological Society (BPS) Stage 2 towards qualifying as a Chartered and Registered Forensic Psychologist.
Law, Justice, and Psychology included a unique experience of conducting an assignment in the mock court room as an expert witness. I was quite nervous, but I gained a good grade which gave me the confidence that reassured me I could get to where I wanted.

What do you think about the campus and the services offered?
The campus is open, friendly, and safe. The Students' Union is a great place to socialise, but also offers activities, support, clubs, and societies – there's something for everyone. The Careers Service is helpful, you can even have a mock interview in preparation for job interviews. The library has to be one of my favourite places, there are different spaces and rooms available.
I stayed in King Edward's Square accommodation during my first year, it's a great place to live. The houses feel homely which makes the transition of living away from home easier. There is a lovely green area where everyone picnics in the summer, and it's less than five minutes' from the main University campus. You also have wardens on site 24 hours a day so it's safe and secure.

What has your social life been like?
The surrounding area is great for socialising. There are plenty of shops and the cost of living is relatively low. As a student who is not local I will definitely visit Middlesbrough once I leave just so I can have some of the amazing food here. The clubs are also great, with great prices and student nights. There are also other exciting things, including quad biking in Hartlepool, which is also close to the seaside.
I have been an active School Representative for two years. I have also volunteered for various organisations through Volun-tees as a Mentor, Community Rehabilitation Volunteer, MIND Appropriate Adult and Volunteer Caseworker. I have also worked alongside my lecturer on a systematic review for two years – this was a unique and amazing opportunity.

Would you recommend Teesside?
Yes, 100% – especially the staff, supportive environment, services, and wider experiences you can gain here. Teesside University helps you develop and become a strong, independent, confident, and experienced hard worker. I have been supported in every way and I have never felt like I didn't have anywhere to go for help.
What career do you hope to enter after the course?
I currently work part-time for Yorkshire Children's Centre as a Project Officer for the Domestic Abuse Perpetrator Programme. I am thoroughly enjoying every working day. I feel an important part of the team. I've gained so much experience and I look forward to seeing what other experience I gain in the future.
After graduating my goal is to be registered for Stage 2 of the BPS qualification and then practice as a Forensic Psychologist to gain a variety of experience. Further along my career I want to study for a Doctorate in domestic abuse and then become a lecturer to provide a great learning experience, as I have had here at Teesside.