Student views
Penny Coppard
Penny's MSc Forensic Psychology and the experience she gained while volunteering have broadened her skill set for her future career.
Msc Forensic Psychology
I would recommend Teesside, it is a friendly campus with staff that are really working hard to make the student experience the best it can be.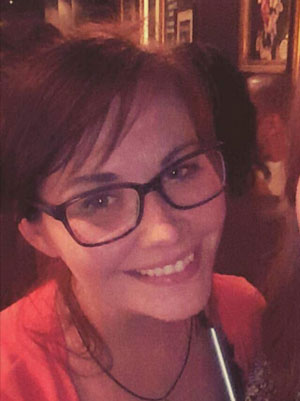 What made you decide to study forensic psychology?
I studied a criminal and sexual offending module in my undergraduate degree and found it intriguing. I decided to focus my knowledge towards my future career with a postgraduate course and to put myself ahead of others when applying for jobs.
What is the best thing about your course?
The content of the lectures and seminars was really interesting and if you enjoy what you are learning, you ultimately do better. The variety of assignments such as court presentations and training plans also broadened my skill set for my career.
My favourite module was Assessment and Interventions – it was real work conducted in a working environment, so it was very applicable.

What do you think about the campus and the services offered?
Teesside's services are excellent. The refurbishments in the library have made it a sociable area for learning. The Students' Union staff are really supportive for students, especially societies and clubs and have the interests of students at heart.
It is much more affordable to live in Teesside than a big city, which means you have more money to spend on free time. The area around campus is great for nights out. There is everything you need within five minutes of Teesside campus, with an assortment of restaurants, shops, cinema and mima, Middlesbrough Institute of Modern Art within walking distance.

Are you a member of any clubs or societies or involved in any volunteering programmes?
I had been part of Enactus Teesside in my undergraduate studies and decided to continue and become a Team Leader. Enactus Teesside builds projects in the community, tailoring them to meet the needs of vulnerable people. I gained a lot from my role, I networked with various business leaders from across the UK and made friends from different courses and different Universities that I will keep for life. I also found when applying for jobs, I could relate to my experience at Enactus and ultimately think that the experience will help secure a position.
Did your course help you get your current job?
I recently completed my studies and I'm aiming to start a position in the Ministry of Justice as a Probation Support Worker. The starting wage is good, with progression in a matter of two years so it would be an ideal position fresh from my studies.
I'm confident my background knowledge of offending behaviours and the reasons behind this will be helpful in securing a position.

Would you recommend Teesside?
I would recommend Teesside, it is a friendly campus with staff that are really working hard to make the student experience the best it can be. The Masters is great experience if you want to go into working with offenders.