Student views
Nik Jones
Nik studied creative writing and is now a published author.
MA Creative writing
'The course itself is a good mix of the creative and the academic.'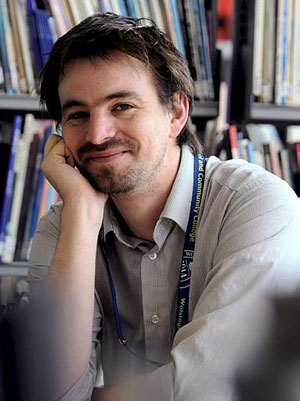 What brought you to study at Teesside?
The excellent reputation of the course. I am always keen to improve my writing style and learn more about the craft – the course sounded ideal.
What was the course like?
Although I became a published author partway through the course each module offered me opportunities to try new styles or perspectives. In particular I enjoyed learning about the theory behind the craft. The staff are knowledgeable and approachable – they are a credit to the university. The course itself is a good mix of the creative and the academic. I was surprised to find that I particularly enjoyed the academic side. Not only that but it is flexible and so should appeal and benefit aspiring and established writers, regardless of style or experience. I graduated with a Distinction.
What are you doing now?
I teach English at Wolsingham School & Community College, but I am applying to research for a PhD at Teesside University. My debut novel, 9987, was published in January 2009 and my second novel, produced largely under the guidance of Teesside University staff, is finished. Novel three already begun. I'm attempting to make use of the skills I learned with Teesside to run my own creative writing groups in the local area.