Taking construction to another dimension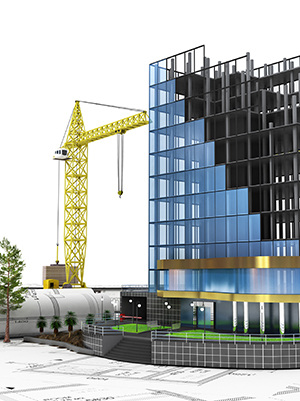 The construction sector is ripe for disruption – after decades without much digital innovation, there has been a need for improving productivity, performance and quality, without compromising health and safety. In 2017, as part of the Industrial Strategy, the UK Government pledged to invest in the technologies needed to digitise construction techniques and improve the way we build buildings.
Professor Nashwan Dawood, Associate Dean for Research and Innovation at the School of Science, Engineering and Design at Teesside University, has led pioneering research into the development of integrated 5D modelling – 3D modelling that includes time efficiency and cost management dimensions. Along the way he has worked closely with early adopters, including the construction companies Atkins, Balfour Beatty, Ryder and BAM.


Professor Dawood also formed Teesside University's Centre for Construction Innovation and Research (CCIR), which has been actively innovating digital technologies and building information modelling processes since the turn of the 21st century. It has also pioneered Knowledge Transfer Partnerships (KTPs) – accelerated, mutually beneficial digital data sharing initiatives forged with industry partners.


In the early stages, CCIR team members worked with these partners to examine the benefits of adopting innovative technologies within construction and infrastructure projects. As research progressed, the centre became a respected authority on lifecycle information flow in construction processes and whole energy systems involving digital technologies, and was engaged in the development of smart algorithms for efficient construction scheduling.


CCIR research has also been used to collaborate on KTPs with several architecture and design companies. For five of these organisations – Ryder Architecture, Colour Urban Design, Niven Architects, Hodgson Sayers and Sotech – it has already increased revenue by a combined total of £1.5 million. Additionally, it has created 25 new jobs, provided extra training for 229 people and led to the formation of a spin-out company. CCIR work is also informing policy development in Qatar and Brazil.


Indeed, the impact of the research has been far-reaching, with 5D principals being used across the UK, South Korea and Malaysia. It has also been employed in the ground breaking 'Virtual Construction Site' development, which enabled project managers from the likes of Balfour Beatty, Carillion and Skanska to visualise detailed information prior to commencing construction.


Meanwhile, a boost in annual turnover, directly attributable to the KTP with Ryder Architecture, is expected to exceed £1.23 million in 2018, while an increase in exports through the partnership with Colour Urban Design is expected to yield £150,000 by 2018. The KTP project with Teesside University brought in over £1.5 million in new business for Niven Architects during 2017, while the partnership with Hodgson Sayers is expected to realise £10 million for the business by 2019.
'We will continue contributing to the realisation of the Government's Industrial Strategy and the overall transformation of the construction sector. We are also training new generations of engineers, practitioners and researchers in the development and application of innovative construction technologies.'
CCIR have recently started pioneering application trials of blockchain technologies, augmented reality and drone surveying in construction and facility management.

---