Changing the practice of sports science practitioners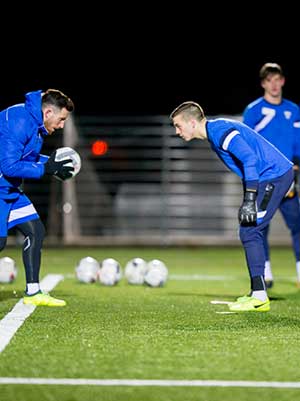 Injuries are no joke when it comes to the negative affect they have on team sports. Not only do injuries impact the lives of individual players who must sit out games – or even retire from the sport altogether – but they also hurt the performance of the team overall. Moreover, injuries can be expensive. In 2016-17 alone, the Premier League paid £177 million in contracted compensation to injured soccer players.
Since the 1960s, sports practitioners have monitored athletes' exertional responses to training sessions to understand how their bodies respond to physical stressors. Historically, sports practitioners have used session rating of perceived exertion (sRPE), through which practitioners ask players to rate how difficult their activity was on a scale of 10.


Dr Matthew Weston, Reader in Exercise Science at Teesside University, has spent his career working with this method. After working with soccer referees, he hypothesised that sRPEs are not sensitive enough to capture the true impact physical activities have on athletes' bodies and minds. As such, he decided to break down the sRPE.


Challenging conventional wisdom, Dr Weston introduced the differential RPE (dRPE) to team sports. Using dRPEs, Dr Weston asks sports players to break exertion down into component parts, focusing on respiratory, muscular and cognitive measures. For example, in one of his earlier studies focusing on an Australian football team, Dr Weston asked players how hard training and games were on specific parts of players' bodies, such as their legs.
'When practitioners use dRPEs, they start to better understand what is going on in their players' legs, chest, arms or mind. Using this information, trainers and coaches can choose to amend training plans to make sure their players are performing at peak fitness levels and not at risk of injury.'
Since his initial study, Dr Weston has built up a body of evidence suggesting that dRPEs are applicable to all team sports players. To date, he has tested the outcomes of using dRPEs with soccer, rugby, netball and Australian football teams.



The impact Dr Weston's work is having speaks for itself. Many professional soccer clubs both in the UK and abroad are starting to employ dRPE over sRPE.



To enable widespread uptake of dRPE, Dr Weston collaborated with Teesside's Professor Iain Spears to develop a cloud-based app to help coaches and trainers collect, store and export exertion data. Not only have app users described the technology as being 'extremely beneficial', but also the app has led to important discoveries. For example, an American soccer team used app data to discover how changes in altitude were affecting players' fitness.



In addition, Dr Weston's work is changing the way sports science theory is taught. In fact, Victoria University in Melbourne, Australia recently launched a new RPE module as part of their Sports Science Master's degree that highlights Dr Weston's findings and includes a 15-minute presentation from him on the benefit of using dRPEs.



Looking forward, Dr Weston aims to expand his research to cover other team sports and work with more clubs. He also wants to push his research into further areas, examining how dRPEs might be used to improve the fitness of individual athletes, such as runners and cyclists.
---