Stubbing out the scourge of smoking in pregnancy
Continuing to smoke during pregnancy causes a legacy of harm to the health of mother and baby. Despite strong evidence that presenting information to expectant mothers inspires them to quit smoking, actually transferring this knowledge into the real world has proved difficult. Ultimately, the challenge has been to deliver a package of knowledge and participation that people trust.
Professor Sharon Hamilton is Professor of Nursing at Teesside University and, along with her colleague Susan Jones, has been leading research into the impact of babyClear©. The project aims to support women across the North East of England to stop smoking during pregnancy by fully implementing best practice guidelines.
The implementation and evaluation of babyClear© has been undertaken through a collaboration between Teesside University, Newcastle University and several public health partners. It encompasses staff training, carbon monoxide monitoring, opt-out referral to smoking cessation services, enhanced follow-up and, uniquely, a risk perception intervention (RPI).


The research programme aims to influence improvements in the quality of pregnant women's patient care and their experience, while also evaluating complex healthcare interventions.


During the roll out of babyClear© in 2013, there was widespread impact. Where women continued to smoke, or failed to attend smoking cessation services appointments, they received an RPI that visually demonstrated the immediate and harrowing effects on the foetus. Teesside researchers found that women accepted this hard-hitting approach and, although distressing, expressed gratitude for it.


Having the risk message personalised to each mother raised greater awareness and, on occasions, led mothers to set a quit date and take home nicotine replacement therapy. Women generally found the combination of approaches beneficial.


The evaluation included an effectiveness study and cost-consequence analysis. It demonstrated that after the babyClear© intervention was introduced, referrals to 'Stop Smoking in Pregnancy Services' increased by 250%. In addition, it found that using an opt-out approach, when referring women with raised carbon monoxide levels to support services, really worked.


A clinically important increase in the birth weight of babies also occurred among the women who quit smoking. Babies exposed to smoke in the womb are more likely to be born prematurely and with a low birth weight. This is an unhealthy sign and often results in weakness, breathing difficulties and feeding problems for the baby.
Overall, Professor Hamilton's work during the babyClear© campaign has identified an 80% increase in the number of pregnant smokers in the North East who have managed to quit smoking before time of delivery.
'The considerable benefits of 'BabyClear© can be felt financially, politically and societally. Understanding the process of normalising the package into routine care can assist practitioners in implementing best practice guidelines more effectively throughout the UK. '
Following the team's evaluation of the effectiveness babyClear© Professor Hamilton and Susan Jones have identified which elements of the package can be delivered according to local circumstances, without eroding the integrity of the original approach. As such, babyClear© has been taken up in a number of areas and is currently being tailored to the needs of Greater Manchester's pregnant women.


Looking forward, Professor Hamilton and the team will continue to assess the implementation of complex interventions, and in particular, additional strategies to support smoking cessation.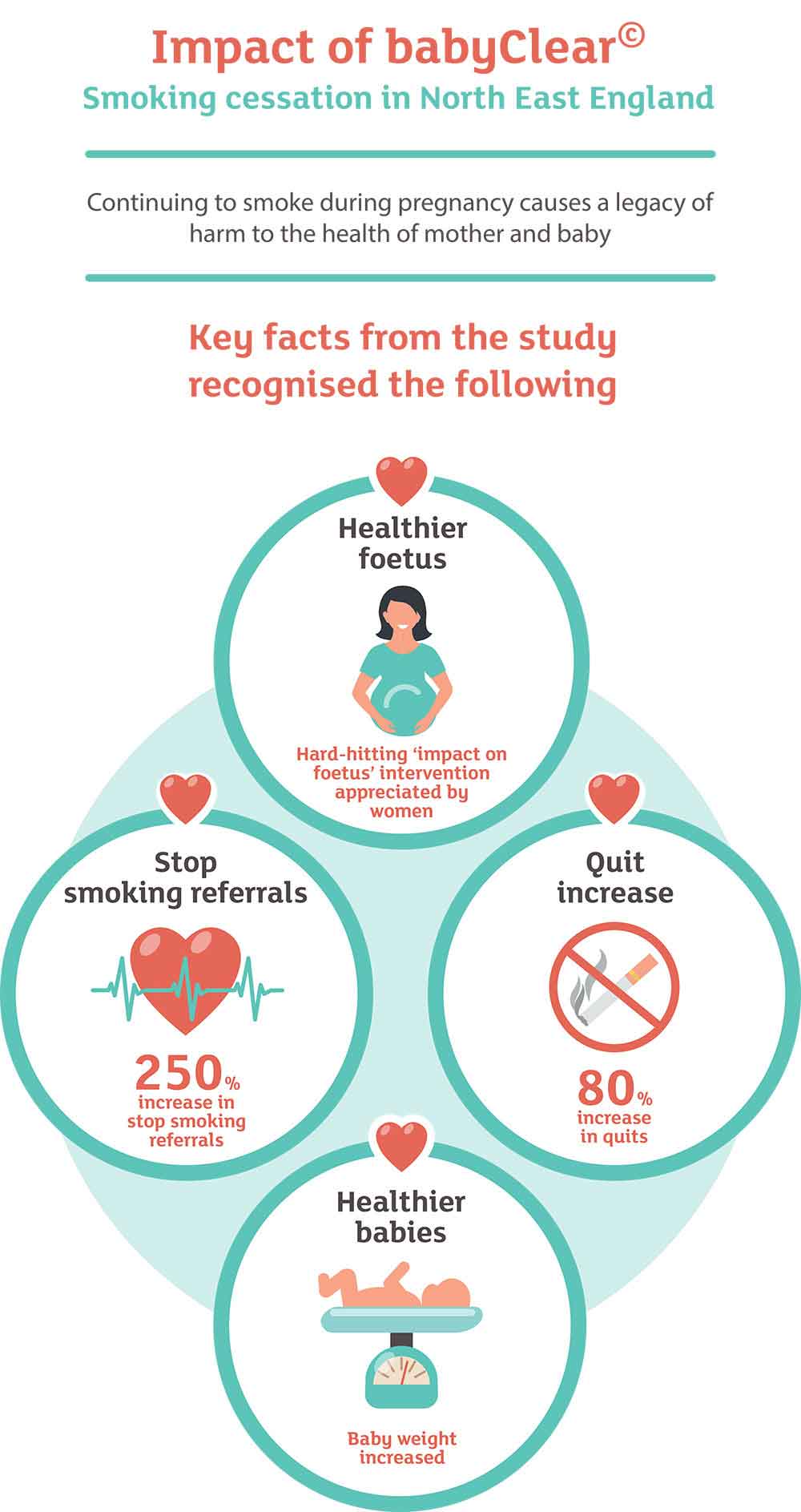 ---