Health & Sport
---
Please get in touch to discuss how we can work together.
View our speakers in schools talks.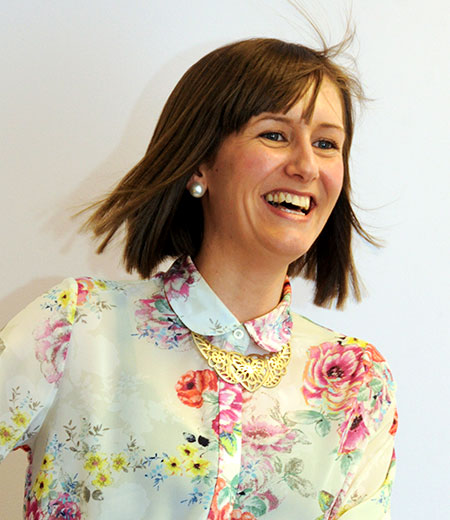 Recruitment Assistant (Health, Sports & Life Sciences)
Amy works closely with the School of Health & Life Sciences as a recruitment assistant.
Having worked in the sector since 2004, she has a wealth of expertise in student recruitment and widening participation.

In her previous role, Amy was responsible for the Year 10 higher education summer school. She has considerable experience with pre- and post-16 students.
Please contact Amy for advice and guidance on any of our health courses or to arrange a visit to campus for hands-on sessions, facilities tours and activities.
---
---
Speakers in schools talks
Nursing and midwifery

Midwives provide high quality care to mothers, babies and their families. They are autonomous practitioners, able to co-ordinate the care of women from pregnancy to labour and following delivery. This session explores Teesside University's midwifery course and prepares students to become part of this rewarding profession.

Children's nurses work in a variety of hospital and community settings, providing care and education to children and their families. Concerns about child health are high profile and result in new and exciting challenges for nurses. Students gain an insight into the role of the children's nurse, enabling them to consider their potential in this rewarding profession.

Learning disability (LD) nursing has been described as 'the purest form of nursing' and has recently celebrated its 100th birthday. LD nurses empower individuals with learning disabilities to live fulfilling lives promoting social inclusion, equity and fairness, and acting as an advocate for people's human rights. LD nurses are person-centred, value-led practitioners working holistically with people with learning disabilities, families and carers. LD nurses work in a variety of different settings including inpatient settings, respite units, day services, treatment and assessment units, hospitals, GP surgeries and prisons. LD nurses have highly effective communication skills and an array of specialist knowledge on conditions such as autism, cerebral palsy, fragile x, and downs syndrome. The work of LD nurses reduces early and unnecessary mortality and promotes physical and mental wellbeing, building capacity for healthy lives. LD nurses champion practices that are evidence-based, creative and solution focused. LD nurses work with people with learning disabilities and educate other health professionals about this area. LD nurses work collaboratively with other professionals such as GPs, occupational therapists, physiotherapists, consultants, and psychiatrists, to name a few. This is a varied, dynamic and specialist role with the potential of a fulfilling and specialist career. This talk helps you explore this unique field of nursing.

One in four of the UK population experiences a mental health problem at some point in their lives.  We all have mental health that can easily be knocked off balance and can cause us to suffer symptoms that are often misunderstood by ourselves and those around us. Mental health problems are not always straightforward and we all need to learn to accept them as part of everyday life. They are the biggest reason why people miss days off work and school and yet with kindness and positivity they can be understood and improved.

What is nursing today? Modern nurses have an increasing range of duties and responsibilities in today's health provision. Through this session students find out about the various paths and opportunities for graduate nurses and learn about the courses available with specialisms in child, adult, mental health and learning disabilities.

Therapies and rehabilitation

Dental nurses, hygienists and dental therapists promote oral health. This role of these professionals is increasingly important following a decline in nationwide oral health. Students find out how dental professionals work, who benefits from their skills and why oral health is so important.

Occupational therapists help people who are recovering from a trauma, or who have a life-limiting condition, to carry out the everyday activities that others may take for granted. Students learn about the methods, techniques and tools used to enable people to live independently.

Are your students fascinated by the human body? Do they want to know how and why our bodies move and operate as they do? Here, they can find out how physiotherapists help patients move and perform to their optimum capacity through rehabilitation

The human body is an amazing machine but sometimes imbalances or external factors can inhibit performance or cause injury. In this workshop we explore the role of the sports therapist and rehabilitator. We'll discuss the techniques and equipment used to ensure the human body physically functions effectively in sport, fitness and everyday life.

Sport and exercise

Obesity and diabetes are preventable health problems. We know physical activity is important for good health but reducing obesity and other health problems by promoting physical activity is a challenge. In this session we discuss the physiological, psychological and social benefits of physical activity. We also explore ways we can promote physical activity such as through the use of mobile apps. 

Being able to respond quickly is a crucial skill for many athletes. In this session we examine the role of reaction time in various sports and will explore ways in which we can improve an athlete's reaction time. Students are given the opportunity to test their own reaction times using our high-technology timing gates. 

Explore how the human body and mind can perform in a range of ways, from high level sport to everyday functioning. During this session you'll explore how sport and exercise professionals can help the human performer reach the peak of their ability. Teachers can choose the focus of this session – select either sport performance, coaching or health.

Emergency and diagnostic care

Health informatics is the application of information technology to healthcare and is as wide ranging as helping people monitor and assess disease and making sure that medical notes are safely and securely available to clinicians around the world. This talk gives an overview of the roles available to graduates of this degree.

This session looks at a career in Operating Department Practice (ODP) working alongside nurses, surgeons and anaesthetists in a surgical environment. As well as learning about the role of an ODP, students will have the opportunity to see and handle surgical instruments, monitoring and intubation equipment.

In a medical emergency a paramedic is usually the first on the scene. This talk covers the role of the paramedic and highlights what students can expect from our paramedic course, including entry requirements, personal statements and the applicant interview process.

Medical professionals can diagnose conditions through less invasive methods than ever before. Students find out how today's medical professionals use technology to diagnose and treat many medical conditions.

---

---