Extra Life
Extra Life is a new approach to improving health and well-being for everyone at Teesside University.
The Extra Life initiative is a partnership with Middlesbrough Council Public Health, Middlesbrough College and James Cook University Hospital, the University and the Students' Union and seeks to nurture and improve health and well-being for their communities.
By working in partnership the University benefits from being able to access significant resources to help deliver mutually beneficial campaigns.
The University commissioned a comprehensive health needs assessment in 2014 with the Health and Social Care Institute's CHASE team. The report findings will see new innovative developments delivered over the coming months.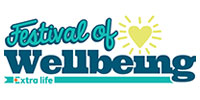 Festival of Wellbeing: September/October
Rock climbing, Tai Chi, yoga, a mocktails dry bar and much more are on offer to tantalise, tempt and exercise you.
Find out more
The report identified the main health needs of students and staff and five project groups were set up to lead on the development of action plans which will be delivered over the next 18 months:
Resilience: this group will focus on improving the mental health and well-being of students and staff
1Up: this group will focus on improving access to support services for risk taking behaviour (including smoking, alcohol consumption and sexual health) and deliver specific activities and interventions that impact positively on individuals' health and well-being
Campaigns and communications: this group will deliver and support a range of health and well-being campaigns, and develop and co-ordinate a health champions programme
Better health at work: this group focuses on staff health and well-being; it has already achieved the Bronze Better Health at Work Award and findings of the health needs assessment have been incorporated into the next staff survey
Healthy eating: this group will engage with students and staff to ensure healthy eating options are available across campus, and develop a variety of activities and services focusing on healthy eating
We would be really pleased to hear from any students or members of staff who have an interest in working with one of these groups. Contact Hazel Wright on 01642 342263 or email h.wright@tees.ac.uk
Extra Life Events
How is your Dry January going? We'd love to hear from you if you are giving it a go. Please email h.wright@tees.ac.uk if you would like to let us know how it's going. Good luck for the remainder of the month.
The University catering service are offering a healthy meal deal until the end of March which includes a low calorie sandwich, piece of fruit and bottle of water, all for £2.50.
2 - 6 February, includes a variety of free offers and activities on campus such as massage taster sessions, sports activities, a one hour gym trial and workshops on mindfulness and sleep. The Gallery is running a stress down meal menu (with a complimentary bag of stress down foods and other goodies). The Students' Union will host our Positivity Tree where you can use post it notes to add a positive message to encourage students to talk about and understand mental health, and break down the stigma surrounding it. Further information about Stress Down week will be sent out very soon.
Various activities across campus will raise awareness of the health effects of smoking and where you can access support to quit if you've decided this is the year to do it.
Thanks to the hard work of the Better health at work group we will receive this award at an official presentation in March.
We are keen to hear from students and staff who are interested in getting involved in the Extra Life project and its activities. Training is available where necessary - it's a great opportunity to build your CV, experience and self-development. Email h.wright@tees.ac.uk to find out more.
These are two new projects and we are keen to encourage students and staff to get involved. Please email h.wright@tees.ac.uk if you are interested in either to find out more. You can also volunteer with the Food Co-op through Volun-tees, email volunteering@tees.ac.uk.
Informal and fun lunchtime sports sessions for individuals and group every Friday between 12.00pm - 2.00pm in the Olympia Sessions are free, all equipment is provided and you can stay for five minutes or the full two hours - you decide. Email p.bell@tees.ac.uk for more details.
---
Well-being Centre
The Well-being Centre is on Level 2 of the Brittan Building.
We offer a number of complementary therapies.
Acupressure massage
Cupping
---