Doctoral student highly commended in prestigious psychology awards
A Teesside University doctoral student has been highly commended by the prestigious Psychology Postgraduate Affairs Group of the British Psychological Society.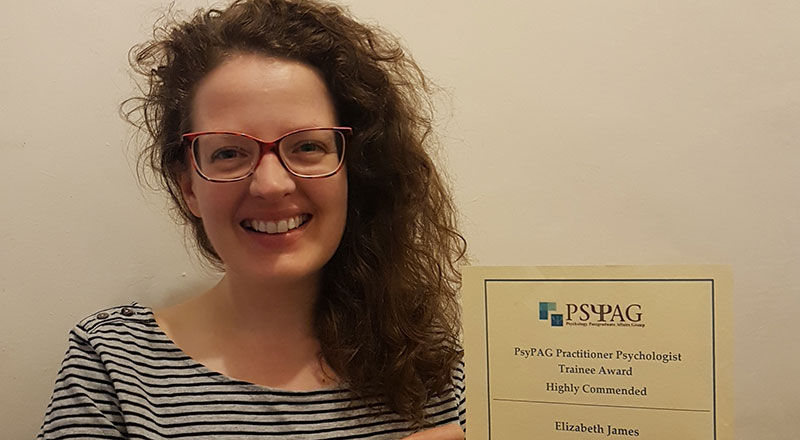 Elizabeth James, 38, is in her second year studying for the Doctorate in Counselling Psychology in the University's School of Social Sciences, Humanities & Law. In April this year, she submitted an application to the Psychology Affairs Group (PsyPAG) Awards, with the support of her research supervisor, Dr Matthew Watson, Head of Department (Psychology).
The PsyPAG Awards celebrate and recognise some of the most exceptional work and teaching completed by their members, acknowledging outstanding achievements in five categories, from undergraduate level to academics and teachers.
Elizabeth was highly commended in the inaugural Practitioner Psychologist Trainee Award category – a prize that specifically recognises trainees working towards formal registration in clinical, counselling, forensic, education, occupational, sports and health psychology, and clinical neuropsychology.
It celebrates exceptional early career practitioners and the skills necessary for working with service users. It also acknowledges the dual focus of practical and academic work, commending the high-quality research that is being conducted by practitioner psychologist trainees.
Originally from Enfield in North London, Elizabeth has lived in Durham for more than 10 years. After studying a conversion MSc in Psychology at another institution, Elizabeth realised she wanted to retrain to become a psychologist. After completing a foundation degree in counselling, she then applied for the doctorate at Teesside in 2018.
Elizabeth is now researching the mental health of undergraduate students and the life phase of emerging adulthood (ages 18 to 25), which developmental psychology researchers see as a distinctive phase between adolescence and adulthood.
I am delighted to have been highly commended as a trainee psychologist at this stage of my training.
She also completed a six-month student postgraduate fellowship at the new CreatorLab at Teesside University this year – an opportunity which enabled her to work on the development of innovative digital learning resources. Elizabeth developed her digital design skills through working on an authentic learning design project within the BSc (Hons) Nursing Studies programme, in collaboration with academic staff and postgraduate students.
On being highly commended at the awards, Elizabeth said: 'I am delighted to have been highly commended as a trainee psychologist at this stage of my training. It means a huge amount to me – and it helps to confirm that my decision to change career around five years ago was the right one.
'When I have completed my doctorate, I would love to combine a clinical role with an academic role, if possible. I enjoy both teaching, educational design and researching, as well as direct clinical work with clients.'
Dr Matthew Watson added: 'I am really proud of Elizabeth, and her ability to work on so many different things is humbling. I feel very lucky to be able to supervise her and work on research with her. For someone only in their second year of training is testament to Elizabeth's ability and the excellent career she has ahead of her.'
---
Course details
---