Food students cooking up new treats with a healthy twist
Final year food and nutrition students from Teesside University are creating new, healthier alternatives to popular treats ahead of a product launch at MIMA.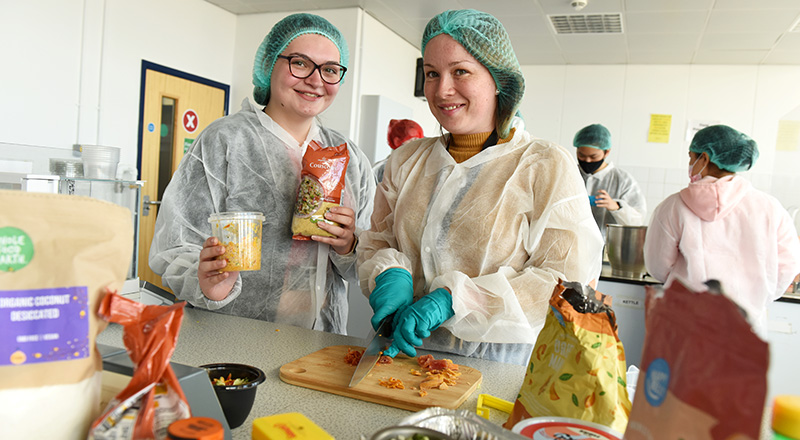 As part of their final practical project, food students are working in groups to develop new, healthy products such as sugar-free pop tarts and high-fibre pretzels.
They will showcase their work at a product launch event at MIMA, where students, staff and members of the public are invited to see – and taste – their new creations.
The products will be assessed across a range of criteria: labelling, recipe formulation, sensory experience, packaging, shelf life, cost and nutrition.
Kerrie-Ann Parker-Thompson is studying BSc (Hons) Food Science and Engineering and is creating a healthy alternative to pot noodles along with course mate, Lizzie Magee.
They have combined all of the convenience of a pot noodle with additional health benefits in their couscous-based snack, containing mango, papaya, coconut, broccoli, sugar snap peas and bok choy.
Kerrie-Ann, 22, said: 'We decided to make this product because so many people opt for pot noodles as a quick snack or as an on-the-go work lunch. It's quick and easy – you just put boiling water in – but it isn't healthy in the slightest.
'Our alternative is one of your five a day, it's low in salt, it's a source of fibre, and it's got everything you need for a nice, healthy lunch.
'We're really excited for the product launch, and we hope people enjoy the food we've been making.'
Robbie Cope, Pei Hu, Yichong Sun, Ziang Wang and Jingwei Liu also set out to challenge themselves in this project, producing a reduced carbohydrate bubble tea.
Robbie, 21, who studies BSc (Hons) Food Science and Nutrition, said: 'We are using everything we've learned in other modules throughout the course in this project, from our work in manufacturing and food chemistry to the health and safety elements.
We are extremely proud of the creativity and professionalism our students have shown throughout this project.
'The course is challenging but it's very enjoyable. Our work directly relates to the food industry, and we've had a range of different opportunities. We get the best of both worlds – working on the manufacturing side as well as the clinical.
'It's a supportive environment in class; we're able to get all of the help we need, as well as the freedom and flexibility to pursue the areas we're most interested in, and our tutors push us to do our best.'
The food and nutrition courses at Teesside University provide students with the specialist knowledge, training and skills they need to make their mark on the £75b UK food industry once they complete their studies.
Dr Laura Brown, Senior Lecturer in Nutrition, Food and Health Sciences, said: 'We are extremely proud of the creativity and professionalism our students have shown throughout this project.
'In the food industry, we are seeing greater demand for healthier foods and so it was important to include this requirement within the project, allowing students to demonstrate how they can come up with an original concept within the crowded food market.
'The groups have really pushed themselves, putting everything they have been learning throughout their studies into practice and working to industry standards to create high-quality food products which prove that healthier alternatives can still look and taste fantastic.'
The product launch event will take place at MIMA, in the entrance lobby, on Monday 4 April, 12.00pm-1.00pm.
Attendees are invited to sample the products, which are produced on campus and have passed all necessary hygiene checks. Full allergen and ingredients lists will also be provided on the day.
---