Driving their way to enterprise
Budding entrepreneurs can be AB FAB by signing up to an MBA at the University of Teesside.
More information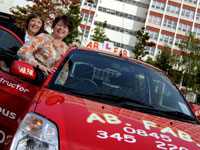 Teesside Business School's Margaret Murray and Debbie Strickley from AB FAB Driving School
---
Business partners Debbie Strickley and Julie Craig set up AB FAB Driving School in 2004 and are both currently studying for an MBA (Enterprise) at the University.

The programme is designed for entrepreneurs or managers of a small or medium enterprise in the North East. It focuses on strategic planning, evaluating opportunities, mechanisms of growth and development as well as the means to sustain an organisation.

Debbie, from Skelton said: 'The course really helps you to think differently about running a business and has been really beneficial for AB FAB. We were encouraged to think more strategically about the way we marketed the company and were very impressed with the knowledge and support from the course tutors.

'The qualification is also an excellent personal achievement. We both have families as well as working full time, so it has been a challenge fitting it all in.

'We've also been able to network with other businesses and have been entered into the North Eastern Woman Entrepreneur of the Year Award which will be held in November. We're really positive about the future of the business and exploring the opportunities studying the MBA has brought us.'

Carol Watts, Senior Enterprise Manager said: 'Owners and leaders of small businesses can really influence the future prosperity of the North East. The University can play its part by opening up their thinking to state of the art approaches and best practice, which is the real focus of this MBA programme.'

For more information contact tbsenterprise@tees.ac.uk or telephone 01642 342868.
24 September 2007