A creative celebration at the University of the Year
Why are some women opting for cosmetic surgery at a much younger age? This issue is visually explored by Teesside University BA (Hons) Fine Art student Joanne Adams.
More information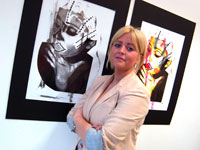 Teesside University BA (Hons) Fine Art student Joanne Adams
Joanne's final year project, entitled 'Always in need of adjustment' will be displayed at the University's annual fine art exhibition, which is part of the wider Bespoke event from Monday 17 May to Friday 21 May.
Bespoke is a free event, open to the public and celebrates the work of final year students on degree courses in design and fine art, English studies, history, performing arts and media.
Joanne, 22, from Acklam, Middlesbrough, was inspired to select the subject of cosmetic surgery after watching TV makeover shows like Ten Years Younger. Joanne has taken an image of her own face and used collage and typography to show the projections of where facial surgery could take place.
My work exhibited at the University of the Year She said: 'I do enjoy reading celebrity magazines and watching the makeover shows, but I don't like the pressure exerted by the media and fashion industry to make women look a certain way. And the age women are starting to alter themselves cosmetically is getting younger. I'm looking forward to having my work exhibited at the University of the Year and I also hope the exhibition gets people talking, I'd like to hear their views.' The design and fine art exhibitions will take place in the Athena Building off Woodlands Road and the Cook Building, behind Borough Road. The fine art exhibition also takes place on the second floor, Constantine Building. They are open to the public from 4.00pm on Monday 17 May.
Teesside design graduate Helen Hughes will open the design show. Helen works as a sustainability strategist for Design Bridge, an international branding agency with offices in London, Amsterdam and Singapore.
The fine art exhibition will be opened by Greville Worthington, an art collector, a curator of several exhibitions, a former representative on the Turner Prize panel and a trustee of the both the Henry Moore Foundation and the Yorkshire Sculpture Park.
The design exhibition will showcase work by students in graphic design, illustration, multimedia and motion graphics, product design, furniture, interior architecture and interior design, while the fine art exhibition will feature specialist expertise in painting, sculpture and print making.
Both shows are open from 10.00am to 4.00pm from Tuesday 18 May to Friday 21 May.
The other Bespoke events, all free and open to the public, are:
Meet the historians, from 1.00pm to 3.00pm on Wednesday 19 May in Middlesbrough Tower, Room M4.21, showcasing the work of history students through their research programmes
Cabaret of the spoken word from 6.30pm to 11.00pm on Wednesday 19 May in the Hub, Students' Union - this showcases some of the best live work produced by MA Creative Writing students, accompanied in the interval by live music
Performance students showcase their work in the Hazel Pearson Theatre at Middlesbrough College at 3.00pm on Thursday 20 May and 7.00pm on Thursday 20 May and Friday 21 May. Students from the two performing arts programmes – BA (Hons) Dance and BA (Hons) Performance for Live and Recorded Media – perform entirely original end of year shows. The dance students perform self composed choreographic work, along with pieces created for them by Dutch choreographer Caroline Ribbers and UK-based artist Geoff Hopson. The performance students have devised a multi-media show set in New York in the 1920s, featuring pieces based on writings by Dorothy Parker and Damon Runyon
Short films by media students can be seen from 3.00pm to 5.00pm on Friday 21 May in the Athena Building, Room A2.01. An invite-only gala screening follows at mima at 5.30pm on Friday 21 May
Martin Pout, Assistant Dean in the School of Arts & Media, said: 'Bespoke is a fantastic chance to see the culmination of three years of hard work by our students. The degree show highlights the exciting and innovative work being produced by our graduates before they leave to start their industry careers or stay on to further their studies on a master's programme.'
More information about creative arts week and all of the work by students in the School of Arts & Media can be found at www.tees.ac.uk/bespoke.
---
In the News
A Bespoke arts event
Evening Gazette (Teesside), 07/05/2010, p.2
The creative talents of students at Teesside University are due to be highlighted this month as part of the bespoke exhibition.
---
A bespoke arts event
What's On, 07/05/2010, p.2
The creative talents of Teesside University students are in the spotlight during events taking place during May