Students from around the world praise Teesside University
International students have given Teesside University a resounding endorsement and are among the most satisfied in the UK - according to an influential annual survey.
More information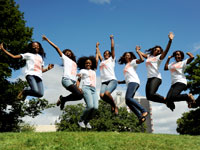 International students at Teesside University are among the most satisfied in the UK.
And several of the University's facilities and services have been rated as the UK's best by overseas students including the library, careers service and accommodation costs.
The International Student Barometer is an annual in-depth survey of international students across 170 institutions.
Teesside University has consistently been ranked in the top 10 for overall international student satisfaction. Feedback relating specifically to areas around learning, living, support and arrival, places Teesside international students as the most satisfied out of 170 universities.
The International Student Barometer also shows that overseas students rate Teesside University's library, which last year underwent a £2m refurbishment, as the best in the UK.
The careers service, student advisors, language support, as well as living and accommodation costs were also ranked as the UK's best by international students.
Teesside University Vice-Chancellor, Professor Graham Henderson CBE DL, said: 'We place great emphasis on providing a first class learning environment for international students and work hard to ensure their academic and social experience here is an extremely positive one.
'We are delighted with the results of the latest International Student Barometer. For our international students to rate us first in the four main areas of learning, living, support and arrival is a fantastic endorsement of the time they spend living and studying at Teesside University.
'For a number of individual areas to also be ranked as the best in the UK by international students is excellent news and we will continue to build on this success to provide a great experience to students who visit us from all over the world.'
Teesside University has invested £200m on the campus in recent years to provide top class facilities for students, businesses and the local and regional community. Work has recently started on a brand new flagship £20m teaching facility at the heart of the campus.
The University was also recently awarded a Queen's Anniversary Prize for excellence in higher education.
---