International academic addresses North East business community
A world-leading academic has visited the Tees Valley from America to speak to North-East small business owners about how to harness knowledge within a workforce.
More information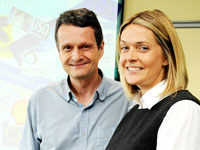 Professor Etienne Wenger and Dr Sue Smith.
Professor Etienne Wenger was invited by Teesside University to speak to an audience of SME owners and directors about his research on how people learn in the workplace.
The business owners were all taking part in the Leading Growth programme which is a series of events and coaching being delivered by Teesside University to help SME owners-managers take their businesses to the next level.
Together with academics and postgraduate students, the business owners heard from Professor Wenger about 'Communities of Practice'.
Professor Wenger, who lives in California, studied traditional African tailors and observed how important learning did not always take place 'vertically' from master to apprentice, but very often by 'horizontal' means by collaboration amongst the apprentices.
In the modern workplace, these 'communities of practice' are sometimes as informal as discussions in the staff canteen, but tapping into them is vital for any employer wanting to maximise the skills of his or her workforce.
Professor Wenger has advised some of the world's leading companies on how they can make use of 'communities of practice' to maximise efficiency and increase knowledge.
He said: 'My work has been with fairly large organisations and obviously things work slightly differently in smaller companies. "But there are still things they can do to create communities of practice, even such things as looking at different learning needs in weekly meetings.'
Professor Wenger gave his talk at Teesside University's Darlington campus at Central Park.
The campus is the base of Teesside University's national business hub where companies can access all of the University's business engagement work and research and development.
Central Park is also going to be home to a Business Growth Hub providing 50 business units and the National Biologics Manufacturing Centre.
Professor Wenger added: 'One of the reasons that Silicon Valley was so successful was that, as well as the larger companies, there were lots of smaller communities of practice.
'If you create a hub around something like biologics, where people can see the value in engaging with colleagues around critical challenges that would be a very valuable thing to do.'
Dr Sue Smith, Assistant Dean in Teesside University's School of Social Sciences, Business and Law, said: 'We're delighted to have somebody of such international standing come to Teesside.
'It is fantastic that he is able to talk to our business community and hearing from someone of his calibre will be of enormous benefit to them.'
---
In the News
Top prof's uni visit
Evening Gazette, 07/10/2014
US-based Swiss academic, Professor Etienne Wenger, was invited by Teesside University to speak to North-east business owners about how to harness knowledge within a workforce.